On August 4, 2017, Manon van de Water, Vilas-Phipps Distinguished Achievement Professor and Director of Theatre for Youth at the University of Wisconsin-Madison, Chair of the Department of German, Nordic, and Slavic received the Judith Kase-Cooper Honorary Research Award from the American Alliance for Theatre and Education.
Open to long-standing members of AATE, the Judith Kase-Cooper Honorary Research Award award honors distinguished scholars who have contributed significantly to the development of theory and research in the field of drama/Theatre & Education. The focus is on cumulative work accomplished over a number of years rather than on one study. It is named in honor of Judith Kase-Cooper, founder and longtime head of AATE's International Center for Studies in Theatre Education.
Prof. Sonja Klocke and Emeritus Prof. Marc Silberman recently published articles in the Journal of Cross-Cultural Image Studies, "Imaginations". Marc was also the Guest Editor for the Journal. The 9 articles are revised papers from a conference held at the UW Pyle Center on April 1, 2016. Click the article title to view the Journal.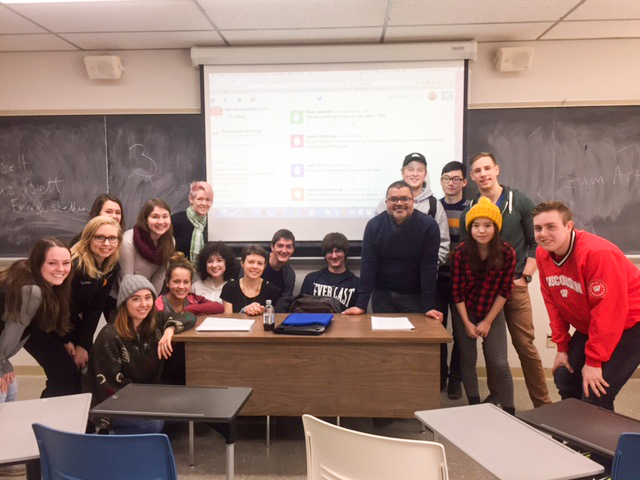 Venkat Mani receives Kellett Faculty Research Award
B. Venkat Mani researches and teaches migration: of human beings and forms of refuge and exile, and migration of ideas through libraries, books, and digital media. He is the author of Cosmopolitical Claims (2007) and Recoding World Literature (2017) and co-editor of the Wiley-Blackwell Companion to World Literature (2018). He is currently working on a new project on migrants, refugees, and "the right to read." His research has been funded by the Alexander von Humboldt Foundation and the Andrew Mellon Foundation, among others. His teaching has been recognized through several student nominated awards. He thinks of research and teaching as inseparable, and strongly believes that he could not have won the Kellett Award without the amazing students at UW-Madison who are never shy of asking tough questions. Here he is with the students of his course on "Migration in Literature, Film, and Music" (Spring 2017).
Professor Emeritus Harald Naess was the guiding force of the Scandinavian Studies Department for 32 years, from 1959 until his retirement in 1991. He was the fourth Norwegian professor in the Department's long history, succeeding Einar Haugen who hand-picked Harald Naess as his replacement when he was called to Harvard. Haugen later said and Harald's retirement banquet that hiring Harald was one of the smartest things he had ever done.
Hans Adler's research focuses on a scholarly edition of the works in 10 volumes of the Swiss 18th-century philosopher Johann Georg Sulzer. The edition is co-edited with his colleague Professor Elisabeth Décultot (Ecole Normale Supérieure, Paris/Martin-Luther Universität Halle-Wittenberg). Hans spent time for this cooperation in Halle, Germany in October 2016.
David Natvig, a graduate student in the Nordic Program, recently worked with Folklore Village to document vinyl records they found in their collection.
Ibsen's A Doll's House (1879) is probably Scandinavia's most famous play, having reached audiences around the world in a myriad of languages. Several attempts have been made to figure out what becomes of Nora after she leaves her husband and children behind, though none have been particularly successful…until now. A Doll's House, Part 2, written by Lucas Hnath and directed by Sam Gold, had its premier on Broadway on April 27, 2017 and less than a week later it had garnered a Tony nomination for Best Play--with a little help from Susan Brantly.
Brantly was a script consultant for the production and fielded questions from the producers and playwright regarding just what the possibilities were for women in 19th Century Norway. This is territory quite familiar to Brantly since her first book, The Life and Writings of Laura Marholm (1991), traced the career of a woman writer who tried to make it on her own in Scandinavia and Germany. Brantly provided a copy of her anthology, Sex and the Modern Breakthrough (2004), so that the collaborators on the play could get a taste of the sort of writing done by Amalie Skram and Victoria Benedictsson. Nora's legal standing regarding her divorce is another significant area that was discussed during the consultations, and Brantly suggested the location of the play, which was never mentioned in Ibsen's original, but was important for the manufactured wedding certificate that is the visual signature of the production.
Brantly says, "The questions asked by the production company were very smart, and it is clear they knew what to do with the information I gave them. I was as surprised and delighted as anyone in the audience to learn about Nora's path to success as a woman writer. I had never expected the end result to be funny, but it succeeds in being poignant and hilarious at the same time. Magic."