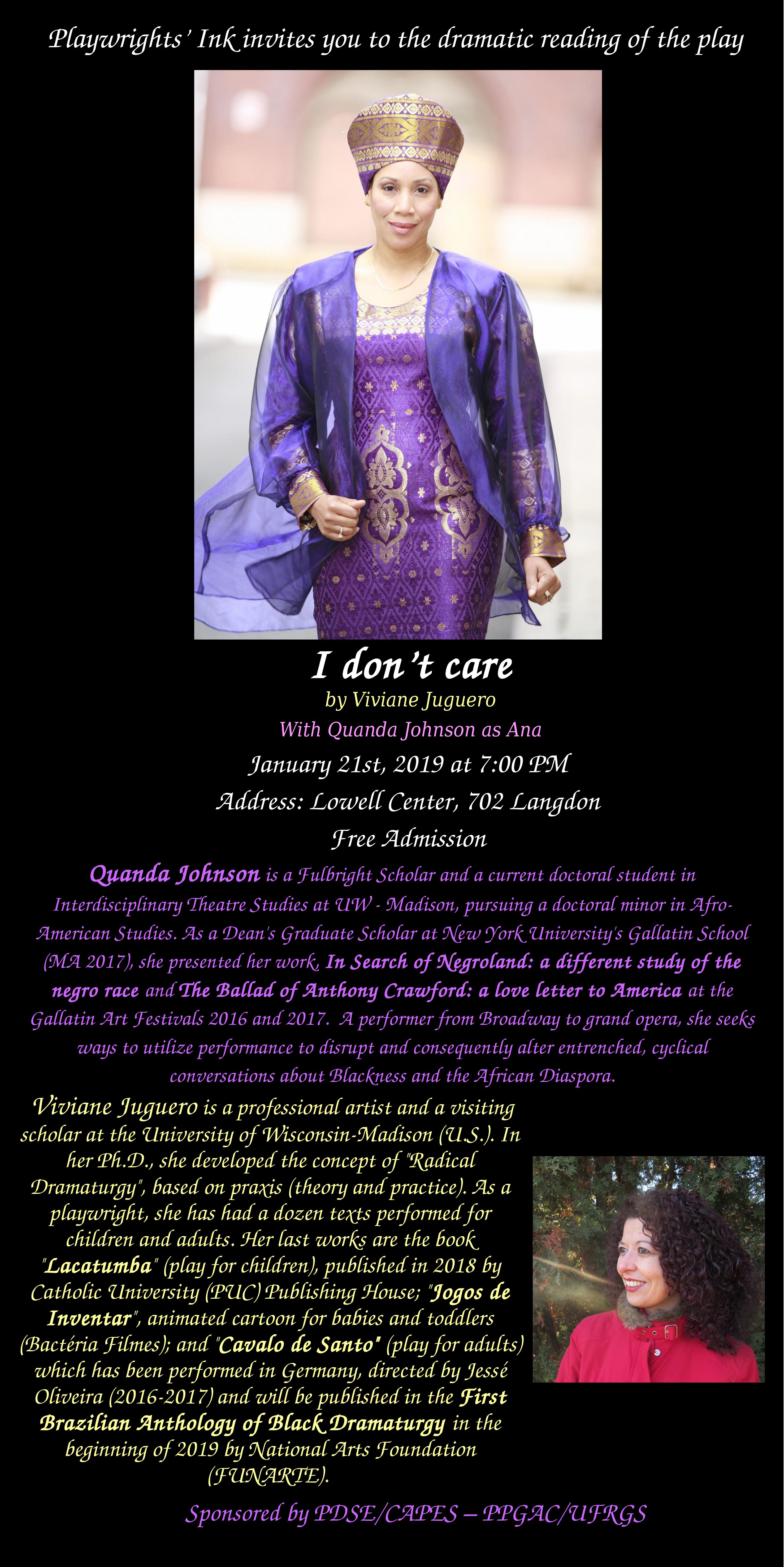 Each month, the Madison Playwrights' Ink promotes one meeting to make dramatic readings of plays in the process of creation. The readings are followed by chatting and critical comments. In January, the play "I don't care" by Viviane Juguero will be read as part of her doctoral research.  The play is about the mestiza Ana, the protagonist of this contemporary monologue that counts on other characters who appear only as audiovisual images. The author works both with racial and gender themes, from a radical perspective, targeting the adult audience. The role of Ana will be performed by the actress and scholar Quanda Johnson.
At UW-Madison, Juguero already has presented a colloquium about the concept of radical dramaturgy at the Interdisciplinary Theatre Program, and a workshop for undergraduates and invited professionals. She also has premiered the animated cartoon "Jogos de Inventar" for babies and toddlers at the Overture Center for the Arts and Madison Children's Museum, sharing the radical principles that bases this work at the end of those exhibitions.
To end her period in Madison, Juguero will present the talk "Race and Gender in a Radical Dramaturgy for Children" at the symposium "Women Theatre Artists" of the Department of Afro-American Studies, on February,  15th, at   4:00 PM (counting on Éder Rosa to finish the event with Brazilian Music), and "The concept of Dramaturgy", at the Playwrights' Ink meeting, on February, 18th, at 7:00 PM.
Viviane Juguero is a professional artist and doctoral researcher at the Performing Arts Graduate Program at the Federal University of Rio Grande do Sul (Brazil) and visiting scholar at the University of Wisconsin-Madison (U.S.) through a Short-term Program of International exchanging called "Sandwich Doctorate Abroad" sponsored by Higher Level Personnel Improvement Coordination (PSDE/CAPES) of the Brazilian Government. As a playwright, she has had a dozen texts performed for children and adults. Her last works are the book Lacatumba (play for children), published in 2018 by Catholic University (PUC) Publishing House; Jogos de Inventar, animated cartoon for babies and toddlers (Bactéria Filmes); and Cavalo de Santo (play for adults) which has been performed in Germany, directed by Jessé Oliveira (2016-2017) and will be published in the First Brazilian Anthology of Black Dramaturgy in the beginning of 2019 by the Brazilian National Arts Foundation (FUNARTE). More information about Viviane Juguero and her work at the link 
http://www.bandodebrincantes.com.br/?pg=11231
Quanda Johnson is a Fulbright Scholar and a current doctoral student in Interdisciplinary Theatre Studies at UW – Madison, pursuing a doctoral minor in Afro-American Studies. As a Dean's Graduate Scholar at New York University's Gallatin School (MA 2017), she presented her work, In Search of Negroland: a different study of the negro race and The Ballad of Anthony Crawford: a love letter to america at the Gallatin Art Festivals 2016 and 2017.  A performer from Broadway to grand opera, she seeks ways to utilize performance to disrupt and consequently alter entrenched, cyclical conversations about Blackness and the African Diaspora.  Awarded the Fulbright Community Leadership Program Grant, she wrote, edited, and directed Beyond the Veil of the Sorrow Songs, which examined the Underground Railroad related to Atlantic Canada, Quebec, and current Maritime racial issues. Performed in the spring of 2014 at Nova Scotia's Dalhousie Arts Center (Halifax) and Alderney Landing Theatre (Dartmouth), it was welcomed at New York University (February 2018) at the Skirball Center for the Performing Arts. Quanda earned a MFA in Acting from New School University and a Master of Music degree from the Conservatory of Music at Brooklyn College.  An AUDELCO Award nominee for her portrayal of Marian Anderson, she appeared in Broadway's Tony award winning Ragtime and made her New York City Opera debut in The Mother of Us All with Lauren Flanigan. Her work is dedicated to the memory of the first artist in her life, her mother, Vernetta.