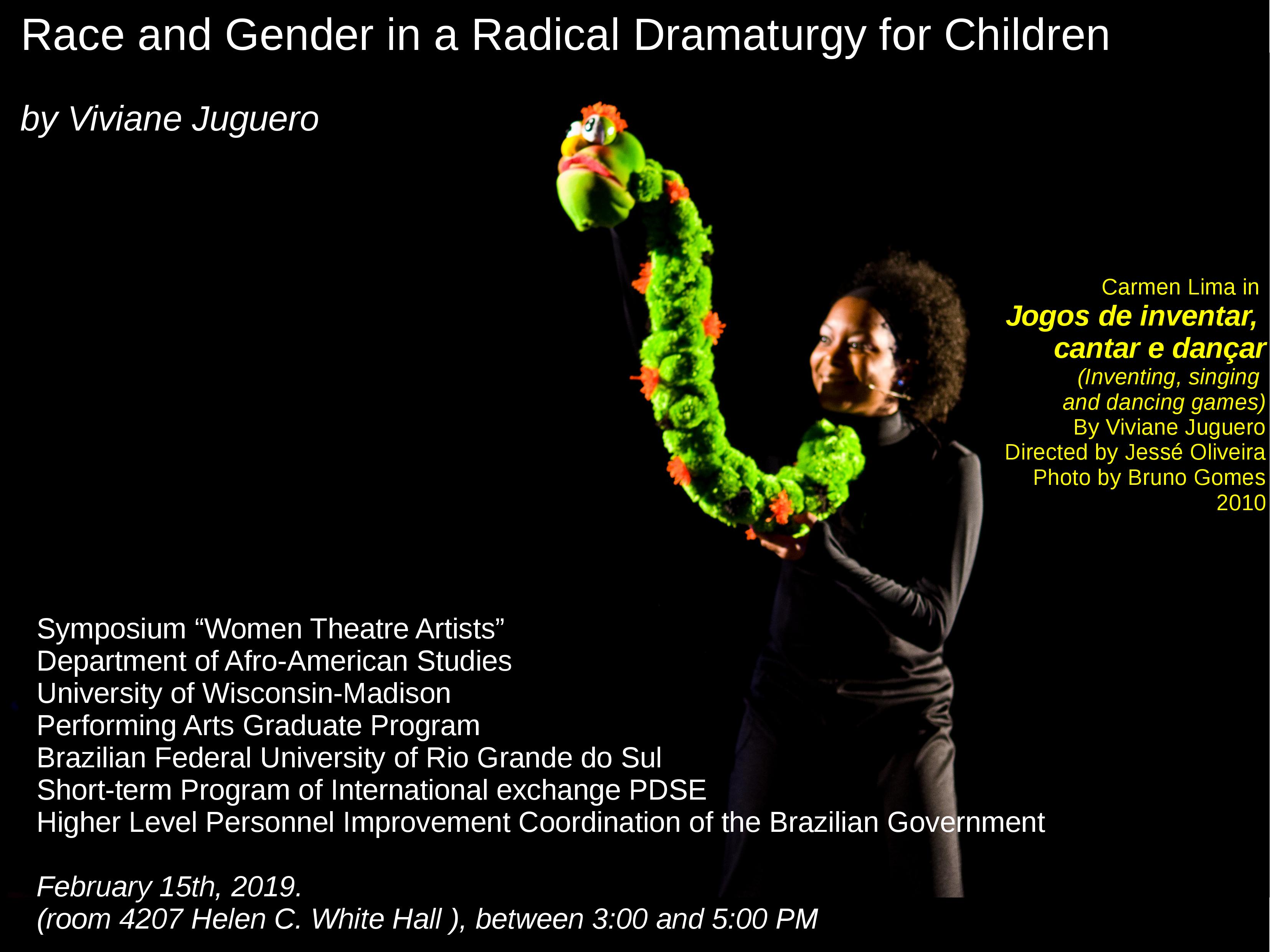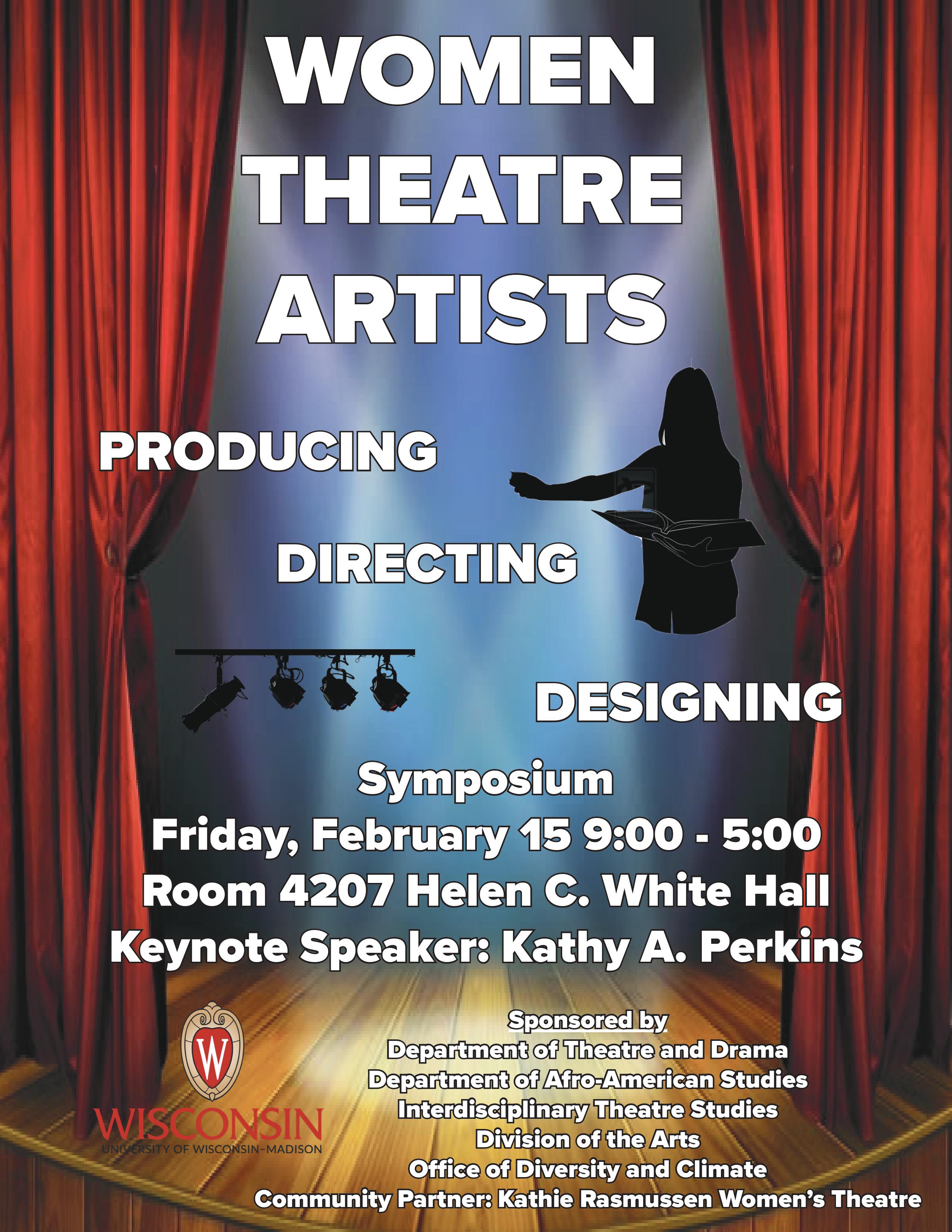 Radical perspectives of dramaturgy
To finish her work as a visiting scholar at the University of Wisconsin-Madison (U.S.), Viviane Juguero is going to present two last talks about different aspects of her conception of radical dramaturgy: "Race and Gender in a Radical Dramaturgy for Children" at the symposium "Women Theatre Artists" of the Department of Afro-American Studies, and "The concept of dramaturgy through a radical perspective", at the Playwrights' Ink meeting.
Race and Gender in a Radical Dramaturgy for Children
February 15th, 2019 (room 4207 Helen C. White Hall ), between 3:00 and 5:00 PM
To talk about Race and Gender in a Radical Dramaturgy for Children, Viviane Juguero will highlight the most important premises of the radical dramaturgy, reflect on specificities of what she calls "child's ludic way of thinking" , and share some information about the Brazilian social context where her research is inserted, especially concerning race and gender. She will present the premises of a radical dramaturgy for children, sharing images and information of plays and audiovisual works written by her, since her research is based on praxis, where theory and practice are chained together in the building of knowledge. The presentation will finish with some Brazilian Orixá's songs, counting with the performer Éder Rosa.
The Symposium "Women Theatre Artists, is coordinated by professor Sandra Adell and count on the following presentations:
Morning (9:30):
* Welcome and Opening Address by Sandra Adell
* Panel One: "Conversations with Women Theatre Artists." Jan Levine Thal
(Kathie Rasmussen Women's Theatre); Jennifer Uphoff Gray (Forward
Theater); KelsyAnne Schoenhaar (Encore Theatre); Gail Brassard (UW Dept.
of Theatre and Drama)
* Quanda Johnson, Graduate Student, Interdisciplinary Theatre Studies
Title: I Know My Robe Gonna Fit Me Well; I Tried It on at the Gates of Hell:
Slavery through the Eyes of the Atlantic Black Female.
Afternoon (1:10 PM)
* Kathy Perkins, Keynote Address
* Graduate Student Panel; Brittany Johnson, Title: "Empowering Women: How Theatre for Development can Turn Silence into Language and Action for Women in Africa."; Omotola Okunlola, Title: "'Bottom Power' and the Feminist Politics of Julie Okoh."; Holly Berkowitz, Title: "History from Below (the Grave): Revivified History and Embodied Possession in Sistren Theatre Collective's QPH."
* "A Conversation with Thulani Davis:" Afro-American Studies
* Viviane Juguero, Title: "Race and Gender in a Radical Dramaturgy for Children."
* Finale: Música Brasileira, with Éder Rosa and Viviane Juguero
The concept of dramaturgy through a radical perspective
February 18th, 2019, at Lowell Center (610 Langdon St), at 7:00 PM.
Dramaturgy is a complex and controversial concept and has been used in different senses like as a synonym for drama, the studies about plays, or its metaphorical use in social sciences. Concerning the creation of performing arts itself, the profusing of genres in contemporary arts sometimes makes difficult to understand what is dramaturgy which complicates the discussions about this specific knowledge. In this meeting, Viviane Juguero will talk about the concept of dramaturgy from a radical perspective, mentioning its specific role in social life and her artistic conception that understands dramaturgy both in a strict sense (literary creations of tabular texts) and in a broad sense (the discourse of the scene). The intention is to share the idea with playwrights, dramatists (as she perceives differences between these concepts), dramaturgs, and everybody interested in the theme.
The group Playwrights' Ink meets regularly once a month and is coordinated by Nick Schweitzer and Bob Curry.
___________________________________________________________________
Viviane Juguero went to UW Madison through a Short-term Program of International exchanging called "Sandwich Doctorate Abroad" sponsored by Higher Level Personnel Improvement Coordination (PSDE/CAPES) of the Brazilian Government. In her doctoral researcher at the Performing Arts Graduate Program at the Federal University of Rio Grande do Sul (Brazil), she developed the concept of "Radical Dramaturgy", based on praxis (theory and practice). As a playwright, she has had a dozen texts for children and adults either performed or published. She has articles published in magazines, journals and specialized site. At UW-Madison, Viviane Juguero already has presented a colloquium about the concept of radical dramaturgy at the Interdisciplinary Theatre Program (Nov, 1st, 2018), and a workshop for undergraduates and invited professionals (Nov, 5th, 2018). She also has premiered the animated cartoon "Jogos de Inventar" for babies and toddlers at the Overture Center for the Arts (Dec, 1st, 2018) and Madison Children's Museum (Dec, 5th, 2018), sharing the radical principles that bases this work at the end of those exhibitions. The play "I
don't care" has also been read at the meeting of the group Playwrigths'Ink (Jan, 21st, 2019) and at the meeting 2nd Annual Women Playwrights Speak Out organized by the TAPIT/new works Studio Theater (Feb, 3rd, 2019).