Christine Evans
German
Graduate Student
Languages: German, Dutch (intermediate)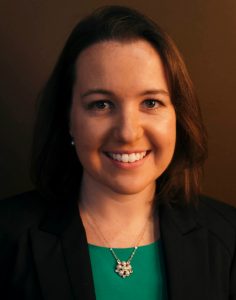 ---
Area(s) of Study: Spoken language syntax. Pragmatics. Linguistic variation. Northern German varieties. Diachronic syntax. Verbal morphology. Language pedagogy.
About: Christine Evans is a doctoral student in German linguistics with a PhD minor in second language acquisition. She joined the program in Madison after studying German and mathematics at the University of Illinois Urbana-Champaign and serving as a Fulbright English Teaching Assistant in North Rhine-Westphalia. Her dissertation research examines syntactic patterns of the left periphery and left dislocation in spoken varieties of Northern Germany. She has also presented work on German in Wisconsin, Early New High and New High German negation, and contemporary verbal derivation. A passionate teacher, Christine has also served as a mentor to teaching assistants and led numerous pedagogical workshops on- and off-campus. Alongside completing her doctoral research, Christine has taken a position as an academic advisor for the College of Letters & Science Honors Program.
Website: https://www.linkedin.com/in/christine-m-evans/
Education:
– University of Wisconsin-Madison, MA in German (2014)
– University of Illinois at Urbana-Champaign, BA in Germanic Languages and Literature (2011) and BS in Mathematics (2011)
Courses Taught:
– GERMAN 101: First Semester German
– GERMAN 102: Second Semester German
– GERMAN 204: Fourth Semester German
– GERMAN 249: Intermediate German – Speaking and Listening
– COUN PSY 125: The Wisconsin Experience Seminar
Completed teaching practica for GERMAN 351: Introduction to German Linguistics and GERMAN 372: Deutscher Film und deutsche Kultur
Awards:
PhD Capstone Teaching Award, University of Wisconsin–Madison Graduate School (2018)
Teaching Fellow, University of Wisconsin–Madison College of Letters & Science (2018)
Lynne Martin Graduate Studies Summer Fellowship, German Program (2017)
Two-year University Fellowship, University of Wisconsin–Madison
Selected Publications:
Book Chapter
Litty, Samantha, Christine Evans, and Joseph Salmons. 2015. Gray zones: The fluidity of Wisconsin German language and identification. In Rosenberg, Peter, Konstanze Jungbluth & Dagna Zinkhahn Rhobodes (eds.), Linguistic Construction of Ethnic Borders, pp. 183–205. Frankfurt am Main: Peter Lang.
Textbook Review
Evans, Christine. 2019. Review of Ja genau! Deutsch als Fremdsprache Kurs- und Übungsbuch B1: Band 1, by Claudia Böschel and Carmen Dusemund-Brackhahn. Unterrichtspraxis 52(1).