Michael Knudson
Scandinavian Studies
Graduate Student
Languages: Norwegian (Nynorsk and Bokmål), Icelandic, Old Norse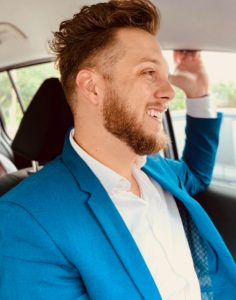 ---
Area(s) of Study: Anglo-Saxon, Norse, and Celtic relations. Medieval Christianity and Christianization in the West-Norse world. Saga literature.
About: Michael Knudson is a Ph.D. candidate in Scandinavian Studies–Philology at the University of Wisconsin–Madison in the Department of German, Nordic, and Slavic. Michael received his B.A. in European Studies from Brigham Young University with an emphasis on Old Norse and Old English language, literature, and interaction. Following his B.A., Michael received his M.Litt in Viking and Medieval Scandinavian studies from the University of Aberdeen focusing on Norse and Celtic relations. The M.Litt. culminated in a dissertation on the perception and interpretation of the Christian term Guðníðingr (apostate) in a native saga context. Michael's research interests lie in the sphere of cultural interaction and the adaptation and interpretation of cross-cultural interaction. His current research explores the nature and degree of monastic influence present in medieval Icelandic literature.
Education:
– University of Wisconsin–Madison, PhD in Scandinavian Studies–Philology (Current)
– University of Aberdeen, MLitt in Viking and Medieval Scandinavian Studies (2016)
– Brigham Young University, BA in European Studies (Old Norse and Old English emphasis) (2015)
Courses Taught:
– SCAN ST 424: Nineteenth Scandinavian Fiction (Online, Fall 2017)
– LIT TRANS 275: The Tales of Hans Christian Andersen (Online, Spring 2018)
– LIT TRANS 275 – CommB: The Tales of Hans Christian Andersen (Spring 2019)
– SCAN ST 404: Modern Icelandic (Fall 2019–Spring 2020) 
Selected Publications:
"Where Fact Meets Fiction: The Scandinavian Historical Roots of the Middle English Romance Havelok the Dane," in Memory and Identity in the Medieval and Early Modern World. Court Cultures of the Middle Ages and Renaissance. (Oxford: Peter Lang, Forthcoming).