Tristan Mueller-Vollmer
Scandinavian Studies
Graduate Student
Languages: Old Norse, Swedish, German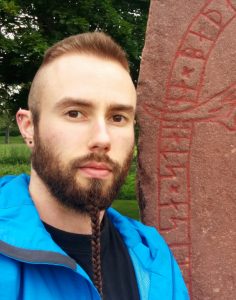 ---
Area(s) of Study: Runology. Personal names. Old Norse. Historical Germanic languages. Mythology.
About Me: I received my BA in German Studies and Art from the University of California Santa Cruz in 2008 and my MA in Germanic Linguistics from UCLA in 2013. Currently I am at Uppsala University in Uppsala, Sweden, to do research and work on my dissertation, which examines the naming methods used within families on Swedish Viking Age runestones. In addition to personal names and runology, I am also interested in language change and cultural contact in the Nordic region, and the mythology, religion, and visual culture of pre-Christian Scandinavia.
Education:
– University of California, Los Angeles, MA in Germanic Linguistics (2013)
– University of California Santa Cruz, BA in German Studies and Art (2008)
Awards:
American-Scandinavian Foundation Fellowship (2019-2020)
Selected Publications:
Dissertation working title: Personal Names on Swedish Viking Age Runestones
The Vikings: Facts and Fictions, co-authored with Kirsten Wolf, Santa Barbara, CA: ABC-CLIO, LLC, 2018.