Languages: Turkish, Spanish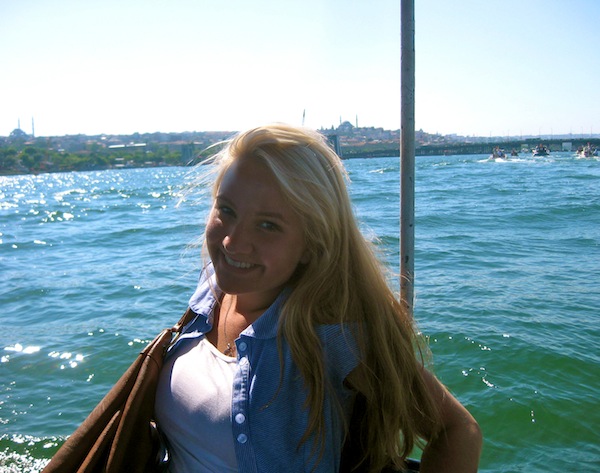 Major: International Studies
Graduation Year: 2016
Current Location: Madison, WI
What motivated you to study these languages?
Ever since my first service trip to Central America, I have been fascinated with the Spanish language. Although my grades in Spanish were always excellent, fluency seemed to elude me. I tried to immerse myself in the language as much as I could. I watched movies with Spanish subtitles. I loaded Salsa music on my iPod, and I ate in Latin American restaurants every chance I got. I even persuaded my family to host an exchange student from Chile for a year. Inspired by my experience, I ventured out of my comfort zone, applied for an American Field Service scholarship and found a part time job. Before long I was on my way to Panama. I spent a semester living in Colon as an exchange student. My grasp of Spanish allowed me to really get to know people, to become a part of their world and to experience it with their words. Whether I was singing through the streets with thousands of others during the holy days preceding Easter or shouting at the television with my host dad during world cup soccer, the language was mine and I belonged. Spanish has been such a big part of my life for so long and I am very excited to be learning it again next semester. I hope it comes back to me quickly after my year in Turkey.
I studied Spanish throughout middle school and high school and I did an independent study of Hindi in high school. Following high school, I was awarded a scholarship through the US State Department to spend a gap year in Gaziantep, Turkey through the Kennedy- Lugar YES Abroad Program. I was immersed in Turkish because I was living with a host family. I fell in love with the language and the country. One of the main reasons I chose to study here at UW-Madison was because of the great Turkish program, which is unique to colleges. I also chose UW-Madison because of the Language Institute. Before I even stepped onto the campus, I knew I would take numerous language classes here.
How have these languages enriched your life?
My Turkish proficiency is extremely important to my life goals. I would really like to get involved with the State Department and the Turkish consulate. My ultimate goal is to be a Foreign Service officer. Public diplomacy and cross-cultural education are key if we wish to foster cooperation throughout the world. Friendships really do lead to understanding and acceptance. Participating in the YES program reinforced my ambition to go into public diplomacy.
On the first page of the journal I took with me to Panama I had scrawled the words: "To speak a language is to take on a world, a culture," -Franz Fanon. For me, the languages opened the door to the Panamanian and Turkish cultures and their people. Yet, the transformation did something much more for me. I became a full-fledged member of the much larger global community. From this new perspective I began to realize how interconnected we all are. In the end, learning Spanish and Turkish didn't just satisfy my curiosity; it created a new hunger to understand new languages, travel to new places, and get to know more of my neighbors.
What do you remember about your UW language classes? How were they different from other classes you took?
I absolutely love my Turkish and Azeri classes here at UW. Each class period is a complete immersion experience in the language. My classmates are as enthusiastic as I am to only speak in Turkish and Azeri and practice, practice, practice. We all take learning very seriously because we all have hopes to return to Turkey. However, the classroom environment is very relaxed and supportive. We have lots of discussions in Turkish.
How have you maintained or improved your languages since graduation?
I go to the weekly Turkish language conversation table and I am a member of the Madison Associate of Turkish students. I went to the Turkish Film Festival here in Madison. Every chance I get, I speak with the many Turkish students on campus.
What is your favorite word or phrase in a language you know?
Xudafiz