"Masel Tov Cocktail" Film screening and Conversation with Filmmaker Arkadij Khaet
November 8, 2021 @ 2:30 pm

-

3:45 pm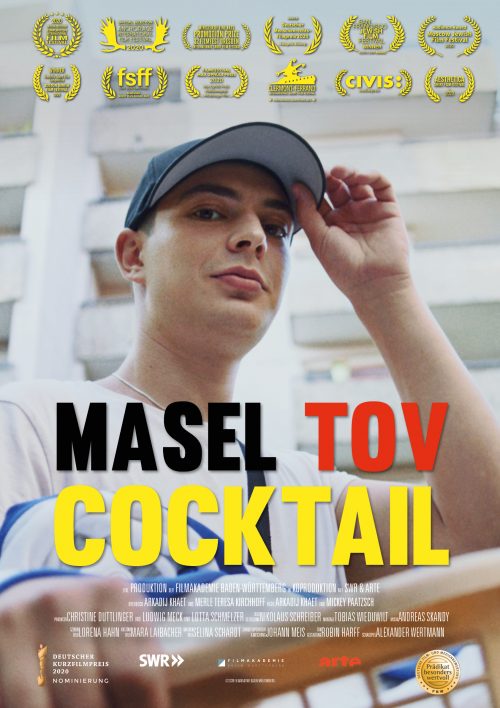 Directed by Arkadij Khaet and Mickey Paatzsch, "Masel Tov Cocktail" is an award-winning short fiction film that provides a thoughtful yet entertaining perspective of Jewish life in Germany. Nineteen-year-old Dimitrij Liebermann punched Tobi in the face. Now he's supposed to apologize to him. But Dimitrij doesn't exactly feel sorry. While on his way to meet up with Tobi, he encounters a diverse representation of German society. Again and again, Dimitrij faces one struggle he needs to overcome: his German-Jewish identity. An analysis of the status quo.
Ingredients: 1 Jew, 12 Germans, 50 ml Culture of Remembrance, 30 ml stereotypes, 2 teaspoons of patriotism, 1 teaspoon of Israel, 1 falafel, 5 Stumbling Stones, a dash of antisemitism.
Directions: Put all ingredients into a film, bring to boil and shake vigorously. Then garnish with Klezmer music.
Consumption: Light before serving. Enjoy at the cinema. 100% kosher.
This 2021 Campus Weeks event is sponsored by the Embassy of the Federal Republic of Germany and by the University of Wisconsin–Madison Department of German, Nordic, and Slavic+, the Mayrent Institute for Yiddish Culture, an undertaking of the Mosse/Weinstein Center for Jewish Studies at the University of Wisconsin–Madison, and the Center for German and European Studies at the University of Wisconsin–Madison.