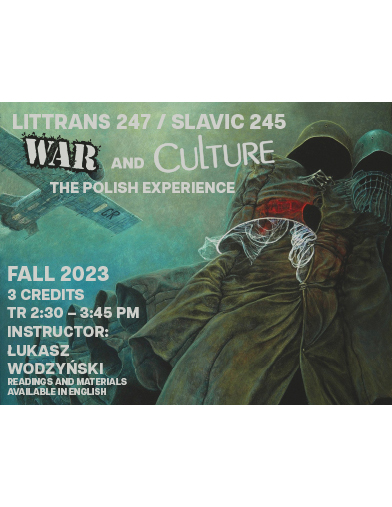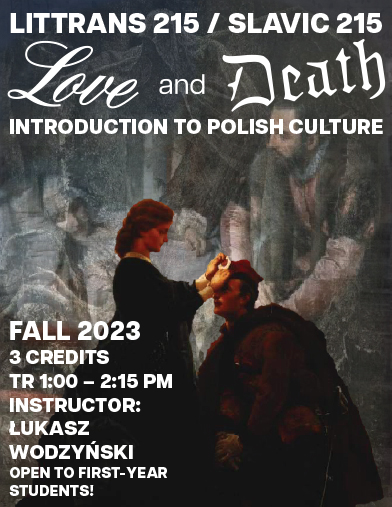 This is an accordion element with a series of buttons that open and close related content panels.
LITTRANS 201 – Survey Of 19th And 20th Century Russian Literature In Translation I
(3 credits)
Instructor: Maksim Hanukai
Course Description: Pushkin to Tolstoy; reading and lecture in English.
Prerequisites: Not open to students with credit for LITTRANS 203.
LITTRANS 203 – Survey Of 19th And 20th Century Russian Literature In Translation I (with Comm B credit)
(4 credits)
MWF 11:00-11:50 am (with discussion sections)
Instructor: Maksim Hanukai
Course Description: Pushkin to Tolstoy; reading and lecture in English; 4th hour discussion section for Communication-B credit.
Prerequisites: Not open to students with credit for LITTRANS 201.
LITTRANS 208 – The Writings of Vaclav Havel: Crtitique of Modern Society
(3 credits)
Instructor: David Danaher
Course Description: Václav Havel (1936-2011) was a renowned Czechoslovak writer, "dissident," and human-rights activist who became president of his country in late 1989 with the fall of the totalitarian regime. He left behind a large body of written work that still speaks to us today. In this course, we will undertake an in-depth examination of his writings across a variety of genres, and these include typographic poetry, political/presidential speeches, "dissident" essays, and absurdist plays. The course is a literature-in-translation course in two senses of the term "translation." In the most straightforward sense, we will be reading—and critically evaluating—Havel's works in English translation. In a second sense, we will analyze the ideas in these texts by "translating" them into contemporary American terms. The course focuses on close analysis of the texts themselves (rhetorical style and technique, structure, imagery, comparison across genres) as well as on critical application of Havel's ideas to our own personal life experiences. In this respect, we will remain faithful to Havel's own pragmatic understanding of art and literature. In what ways do Havel's works speak to us today? What is his intellectual legacy? Students will: (1) develop a familiarity with Havel's sociopolitical and cultural context as well as details of his thought; (2) grapple with Havel's ideas through close analysis of the texts we read; (3) hone their critical-reading and critical-thinking skills; (4) apply Havel's thought to our contemporary context.
Prerequisites: None
LITTRANS 215 – Love and Death: Introduction to Polish Culture
(3 credits)
Instructor: Lukasz Wodzynski
Course Description:
From medieval religious songs to twentieth-century modernist poems, Polish literature has always struggled with the fundamental mysteries of human existence, leaving in its trail unique tales of heroism, sacrifice, enchantment, despair, passion, and the redeeming power of love.
In this course, we will examine major traditions, narratives, and ideas that have shaped and defined Polish culture from its beginnings to the onset of World War II (1939). The course is designed to give you broad and contextualized knowledge of Polish culture by means of engaging you in careful readings of the source material. To unravel the dynamics of Polish culture, we will look at its four major paradigms – Christianity, Sarmatism, Romanticism, and Modernity – and their complex relationship over the course of centuries. While most of the material we will examine is historical in nature, we will always keep one eye on its continuing relevance, repeatedly asking the question of how Poland's past shapes its present.
Prerequisites: None.
(Breadth: Literature, Humanities; Honors option available)
LITTRANS 221 – Russia's Greatest Enigma: Nikolai Gogol
(3 credits)
Instructor: Andrew Reynolds

Course Description: "When, as in the immortal The Overcoat, Gogol really let himself go and pottered on the brink of his private abyss, he became the greatest artist that Russia has yet produced." Vladimir Nabokov
This course will explore the major fictional texts of Nikolai Vasil'evich Gogol (1809-52) – Ukrainian and Petersburg Tales, The Inspector General, Dead Souls – in an attempt to get closer to one of the most enigmatic and influential writers in world literature. Relevant non-fiction texts will also be introduced when appropriate. Despite the comparisons to Poe and Kafka or Gogol's undeniable influence on Dostoevsky and Bulgakov, one thing is certain – his world of laughter and tears is unlike that of any other writer. Are his characters realistic if satirical portraits of his countrymen, or phantoms spawned by his own spiritual torments? Is Gogol a Russian imperialist or Ukrainian nationalist, both, or neither? Is Dead Souls an excoriation of a sad Russia or an evocation of her special destiny as the speeding troika before whom all other nations will give way? Among the many questions raised by Gogol's writing, those concerning national and personal identity, empire, and political and literary authority, can and need to be read in a new light in the wake of Russia's war on Ukraine. Indeed, is it even correct to call Gogol, and this course, Russia's Greatest Enigma, rather than Ukraine's?

LITTRANS 222 – Dostoevsky In Translation
(3 credits)
Instructor: Andrew Reynolds
Course Description: Literature in Translation 222. Dostoevsky in Translation. Major works, lecture in English.
Course description and goals: We will study a number of Dostoevsky's major works to gain a better sense of what literature is and why it is important to read literary texts. Russian culture is one where literature has always played a central role in the nation's self-definitions, but Dostoevsky has indeed achieved that universal relevance for which he strived.
Fyodor Mikhailovich Dostoevsky (1821-1881) is generally considered to be one of the greatest novelists in world literature. His insights into human psychology and his analysis of the political and spiritual climate of 19th-century Russia (and of European thought more broadly) have influenced many major writers and philosophers, from Freud and Nietzsche to Faulkner and Camus. We will survey Dostoevsky's work as a whole, but our main focus will be on the seminal Notes from Underground, one of the most important proto-existentialist works, and above all on Dostoevsky's greatest novels: Crime and Punishment, The Idiot, Demons, and The Brothers Karamazov. Crime and Punishment is perhaps the most accessible of all Dostoevsky's works and develops the critique of rationalism and utilitarianism begun in Notes from Underground on three of his greatest novels. The Idiot provides particularly revealing insights into human psychology and sexuality and foregrounds many of the complex and problematic elements of Dostoevsky's religious thought; Demons (also known as The Possessed or The Devils) is an increasingly relevant analysis of, among other things, political terrorism, and, together with his masterpiece, The Brothers Karamazov, foretells the rise of totalitarianism. We will also examine some of the more problematic nationalist elements of Dostoevsky's legacy in the light of Russia's current imperialist war of aggression against Ukraine.
This course should be of interest and relevance to anyone studying Russian society or history, or indeed for anyone with an interest in literature. Dostoevsky's works are also, of course, direct encounters with the "accursed questions" of life, love, evil, violence, sex, death and the other usual suspects. As always in my classes, the main focus will be on the individual reader's close encounter with the aesthetics and ethics of these works.
LITTRANS 223 – Vladimir Nabokov: Russian And American Writings
(3 credits)
MWF 11:00-11:50 am          Instructor: Sara Karpukhin
Course Description: In this course you will get to know the Russian-American novelist Vladimir Nabokov (1899-1977). It spans both the Russian- and English-language parts of his career. You will discover the "Nabokov effect," the writer's love of pattern, and the system of cognitive challenges and rewards in his fiction. You will read Nabokov's major works from the perspective of history and politics, ethics and art: learn about the "nightmare of history" in 20th-century Europe as well as the writer's struggle as a refugee from war, ideology, and racial hatred.
Prerequisites: Sophomore standing.
LITTRANS 233 – Russian Life And Culture Through Literature And Art (To 1917)
(3-4 credits)
Section 001: MWF 2:25-3:15 pm         
Section 002: MWF 2:25-3:15 pm         
Instructor: Jennifer Tishler
Course Description: LITTRANS 233 presents an introduction to the culture of Russia—its art and architecture, folklore, literature, music, religious life, and philosophy—from its origins through the beginning of the twentieth century. As we move through nearly one thousand years of history, we will pay special attention to such recurring themes as authoritarianism and reactions against authoritarianism, the concept of a Russian "people," the status of women and ethnic minorities in Russian society, and the acceptance or rejection of cultural values and innovations as "Western" or "Eastern," "Russian" or "foreign."
Prerequisites: Sophomore standing.
(Disc 301 has Comm-B designation.)
LITTRANS 235 – The World Of Sagas
(3 credits)
Instructor: Scott Mellor
Course Description: The World of the Sagas will give students an introduction to medieval Scandinavia and "the Vikings" and give you an understanding of medieval Scandinavian studies as a field as it relates to narrative. The course begins by looking at modern images of the Viking age in movies, television, and gamings and then approaches medieval Scandinavia along historical lines with texts from medieval sources, including the legendary history of early Scandinavia, the consolidation of the Scandinavian kingdoms, the Viking expansion, and finally the conversion of Scandinavia to Christianity which marked the end to the Viking adventure. As we learn about medieval Scandinavia we gain a greater understanding of ourselves and the human condition.
Prerequisites: None.
LITTRANS 236 – Extreme Stories: Tales of Criminality and Disease
(3 credits)
Instructor: Hannah Vandegrift Eldridge
Course Description: Mind and body, devastating plagues, or gruesome crimes, we look for explanations that make sense of how and why such events take place. But often enough, attempts to rationalize frightening or confusing events reveal how hard it is to draw the boundaries between "extreme" and "normal," showing just how slippery our categories of sickness and health, guilt and innocence are. This course looks at fictional texts (including films and plays) and legal, psychological, and medical cases to examine critically the different ways we try to make sense of these experiences. In paying special attention to the way writers, scientists, lawyers, psychologists, and filmmakers are challenged, inspired, or confounded by these extreme stories, we will: look at early case studies published in in the eighteenth century, watch as practitioners try to explain mental illness at the birth of psychoanalysis (including Freud's famous case study "The Wolf Man"), read autobiographical narratives of mental and physical illness (such as Audre Lorde's Cancer Journals) and consider criminal cases (e.g. Leopold and Loeb). We will look further at fictionalized 'cases,' such as Nunally Johnson's film The Three Faces of Eve, Friedrich Schiller's adaptation of a legal case, "The Criminal of Lost Honour," and Edgar Allen Poe's short story "The Facts in the Case of M. Valdemar" to see what these stories about the extremes of the human condition can tell us about what it means to be human and healthy.
Prerequisites: Successful completion of or exemption from first communication course. Courses designated as satisfying Part A of the requirement may not be used to satisfy Part B of the requirement. Open to Freshmen.
LITTRANS 238 – Literature and Revolution
(3 credits)
Instructor: Kirill Ospovat
Course Description: In this course we will take a literary journey from St. Petersburg to Moscow, following the shifting cultural and political currents in Russia from the years preceding the 1917 Revolution to the rise of Stalinism in the 1930s. Topics will include: revolutionary violence and terror, civil war and emigration, Futurism and the birth of Russian avant-garde art, Soviet feminism and the engineering of the "New Man," technological utopias and totalitarian dystopias, literature and early Soviet economic policy. We will supplement our readings of literature with material from other media—e.g. the visual arts, architecture, film, theater—reflecting on the Revolution's challenge to traditional norms and boundaries. Among the questions we shall reflect on will be: How did Russian writers and artists respond to the energies unleashed by the Revolution? How did perceptions of the Revolution change over time? What are the legacies of the Russian Revolution? How can reading revolutionary literature help us navigate our own highly unstable times?
Prerequisites: None.
LITTRANS 247 – Ukrainian Culture & Society
(3 credits)
Instructor: Oksana Stoychuk
Course Description: In this course you will learn about Ukraine as a country with a unique ancient culture: Ukrainian Baroque architecture, universities dating back to 17th century, the first constitution developed in 1710, brilliant minds such as the philosopher Gregory Skovoroda (a true 18th-century hipster). You will learn about the literature and theatre of the Ukrainian avant-garde and the Executed Renaissance, a brutal extermination of Ukrainian intellectuals under Stalin, but also about Sofia Yablonska, a travel writer and photographer, who travelled around the world in the 1920s and 1930s and became one of the first women documentary cinematogaphers, about the Sixtiers, a generation of intellectuals and artists, one of whom, Sergej Parajanov, is seen by film historians as one of the most influential filmmakers in cinema history, about feminist art and activism from the beginning of the 1990s and much more. By the end of this course, you will not only know that the well-known Christmas song "Carol of the Bells" was composed by the Ukrainian composer Mykola Leontovych or that the first helicopter was built by the Ukrainian engineer Igor Sikorsky. You will be exposed to a unique intellectual tradition that has shaped our shared past and is shaping the global present.
LITTRANS 247 – War and Culture: The Polish Experience
(3 credits)
Instructor: Łukasz Wodzyński
Course Description: Poland and Europe 1914-1945. Even as we emerge from a devastating global health crisis and face the uncertain future, with the world on the edge, we find that the traumas, issues, and concepts engendered by two World Wars continue to haunt us, even a century later. We once again find ourselves in difficult times, marked by social, cultural, religious, and economic tensions. In this course, we will examine how cultural texts – including literature, film, theatre, painting, and sculpture – produced during, between, and after the two wars – deal with the extreme and everyday experiences, with shattered worlds of individuals, ethnicities, and nations. This course concentrates on 20th -century Polish culture. All the readings and materials are available in English.
Prerequisites: None.
(Breadth: Literature, Humanities; Honors option available)
LITTRANS 270 – German Women Writers in Translation: "Love and Violence"
(3 credits)
Instructor: Sonja Klocke
Course Description: Do you like reading fiction? Are you particularly interested in reading novels, poetry, and short prose by women and by people who self-identify as nonbinary? Would you like to learn more about writing by female and nonbinary authors from German-speaking countries? This term, LitTrans 270/GWST 270 focuses on the topic of "Love and Violence." We will read various contemporary novels, short prose texts, and poems on that subject, all written by women and nonbinary authors with diverse backgrounds. For example, you will become familiar with women writers from East Germany and from West Germany, which means that some of them were socialized in the socialist German Democratic Republic while others were raised in the more capitalist Federal Republic of Germany. Other writers we read migrated to Europe from Turkey, Russia, Japan or Great Britain and write in German. Many of the books we want to discuss have won prestigious prizes, and all of them will allow you to expand your horizon with regards to cultures of German-speaking countries and their relationship to the world as well as the question: What does it mean to write as a woman? What does it mean to write as a nonbinary author? How does one's cultural background as author, reader, and translator influence the writing, the reading, and the translation process? In addition to the novels (all easily available in the USA), we will read short stories, excerpts from novels not entirely translated yet, poems, and short texts about women's writing, gender theory, and narrative texts that will be provided on canvas.
Prerequisites: Open to freshmen. Not open to students who are taking or have taken German 302 or above.
(Fulfills the humanities breadth requirement and literature requirement)
LITTRANS 275 – In Translation: The Tales of Hans Christian Andersen
(3-4 credits)
Section 1: MWF 12:05 – 12:55 pm          
Section 2: MWF 12:05 – 12:55 pm         
Instructor: Claus Elholm Andersen
Course Description: Hans Christian Andersen's fairytales are known all over the world. He wrote The Little Mermaid, The Snow Queen, The Ugly Duckling and many, many more. This course to going to familiarize you with the works of Hans Christian Andersen, with an emphasis on his fairy tales. During the course, we will read and analyze some of his best-known fairytales, but also look at a few texts from some of the other genres he mastered. Our readings will include the biographical traits of his stories, but will primarily focus on his mastery of the genre and his complex narrative method. We will also talk about the time and place in which Hans Christian Andersen wrote his fairytales – Denmark in the 19th century ­– and discuss how this influenced his stories. Though his stories/tales might seem simply, they are complex literary artifacts. This course will argue that Andersen should be considered one of the great authors of the 19th century, not just an author of simple fairy tales for children.
Prerequisites: None
(Disc 301, 302, 303, 304, 305, 306 have Comm-B designation.)
LITTRANS 276 – Reading the Barbarians
(3 credits)
Instructor: Katerina Somers
Course Description: This course is about Germanic barbarians as they have been imagined and reimagined in Europe and North America. Our origins story for the barbarian is Tacitus's Germania, in which the Roman senator created the fierce and wild-eyed savages who destroyed three Roman legions at the Battle of the Teutoburg Forest in 9 CE. In the medieval Lay of the Nibelungs, these same barbarians acquire the civilized veneer of courtly manners and opulent wardrobes, but retain their propensity for brutal acts of violence. They are more thoroughly rehabilitated in the centuries to follow, when German-speaking intellectuals cultivate and promote a sense of nationalism in the absence of a German nation. During this time, the barbarian attains a new status, embodied in characters like Siegfried and Brünhilde in Wagner's four-opera cycle The Ring of the Nibelung and Hermann the German in Heinrich von Kleist's play, The Battle of Hermann. Yet the myth of the German barbarians, their imagined indigeneity and racial purity, their supposedly ancient and uniquely German culture that reflects the true nature of the Volk, is treated as fact. Even worse, it becomes the template for what all Germans should strive to be. Finally, we investigate the migration of the Tacitean ideal to North America, where it appears in the form of the liberty-loving Anglo-Saxon. We end the course by tracing its influence in the formation of a US-American national identity.
Prerequisites: None.
(Breadth – Literature. Counts toward the Humanities requirement)
LITTRANS 276 – German Literary Others
(3 credits)
Instructor: Zach Fitzpatrick
Course Description: Spanning the late 1700s to the 2020s, this course provides a survey of different forms of alterity within German literature, including subjects "othered" according to racial/ethnic, gender/sexual, religious, national/cultural, and class affiliations. Because hegemonic status—whether white, Western, Christian, heterosexual, bourgeois, and often male in the German context—depends on the exclusion of an Other, we will analyze how authors write Otherness: disparagingly, sympathetically, exotically, "objectively"? Moreover, where do marginalized authors' self-representations fit in this spectrum? In considering all of the course's texts, whether canonical or lesser known, we will ask: what aesthetic techniques are utilized to represent the Other? To what extent can one attribute certain tropes to historical context, genre, or literary periodization? Investigating the ever-changing definition of Otherness over time will provide just as much insight into Germany's perceived sense of "Self" at various points from the Enlightenment to the 21st century. The course and all materials will be in English. Prior knowledge of German is welcome but not required.
LITTRANS 276 – Climate Fiction
(3 credits)
 Instructor: Sabine Mödersheim
Course Description: "Climate Fiction " is an emerging genre of literature, graphic novels, and film exploring the consequences of climate change in the age of the "Anthropocene", the epoch in which human impacts on the planet's ecological systems reach a dangerous tipping point. The aim of this course is to discuss the human experience of climate change on a global scale through analyses of works by German authors such as Christa Wolf, Yoko Tawada, Ilija Trojanow as well as writers from around the world, including Margaret Atwood, Octavia E. Butler, Amitav Ghosh, and others. We will explore dystopian, and apocalyptic stories but also works that imagine a more just future of resilience and social equality.
All materials will be in English translations or with English subtitles. Lectures and discussions will be in English. Prior knowledge of German welcome but not required.

Prerequisites: None.
(Level: Intermediate. Breadth: Literature. L&S credit type: Counts as LAS credit (L&S))
LITTRANS 319 – Scandinavian Children's Literature
(3 credits)
Instructor: Ida Moen Johnson
Course Description: Astrid Lindgren's Pippi Longstocking or Tove Jansson's Moomin books are well-known examples among many widely read and popular Nordic children's books. Pippi has symbolized the ideal Nordic child as independent and competent. In this class we will read and discuss a selection of diverse children's books and films that exemplify both the common ideas of the Nordic Child as well as bring out other kinds of experiences of childhood in the
Nordic countries. You will get to learn about some of the prevalent forms and themes in Nordic children's culture, such as nature, play, school, fantasy, food, death, loss, and storytelling.
Prerequisites: Sophomore standing
(Cross-listed as SCAND ST 419)
LITTRANS 326 – Topics in Dutch Literature: Anne Frank
(3 credits)
Instructor: Jolanda Vanderwal Taylor
Course Description: Anne Frank counts as one of the most widely read writers in recent world history, and yet some wonder whether she should be called a writer. Her work is widely loved. It has been the inspiration for many other cultural artifacts and institutions: editions; biographies; works of fiction and non-fiction; plays; autobiographies (e.g. by friends of Anne Frank); scholarly research: literary-, cultural-, historical-, as well as research in the various sciences of manuscript authentication; exhibitions; museums; foundations. In this course we will study the context in which the Diaries were written and consider the various ways in which they were received. We will look at what was done with the Diaries and with Anne Frank: how they have been read, interpreted, used, and argued about. We will engage in critical thinking, asking not just: what? but also: why? We will consider what her work and life have to say to us as we face the legacy and continued scourge of racism. We will certainly consider some of her laments as we consider out own, somewhat confined, existence. We will take Anne seriously as a writer by reading her works (the Diaries and other short texts) attentively. And then we will also think about the nature of literature: is what Ms. Frank wrote literature? Why, or why not?
Prerequisites: Satisfied Communications A requirement.
LITTRANS 334 – Nineteenth-Century Scandinavian Fiction
(3-4 credits)
Instructor: Susan Brantly
Course Description: The 19th-Century generated some of Scandinavia's best-known writers. The course begins with Romanticism and looks at Norwegian folktales, Esaias Tegner's popular Viking tale (Frithiof's Saga), and Hans Christian Andersen's world-famous stories, to name but a few highlights. From there, we move to the Modern Breakthrough, perhaps the most important period in Scandinavian literary history, during which writers were urged to take up current issues for public debate and let science be their inspiration. Internationally famous Nordic writers did just that in classics such as Ibsen's A Doll's House and Strindberg's The Father. We will trace how these influential social debates about class and gender took literary form. As the century comes to a close, some writers, such as Nobel laureates Knut Hamsun and Selma Lagerlôf, react against the rationality of the Modern Breakthrough by turning to literary Decadence and Neo-Romanticism. This course on 19th-Century Scandinavian Literature is being taught entirely online.
Prerequisites: Junior status or higher and 2 years of Scandinavian language.
LITTRANS 337 – In Translation: 19th Century Scandinavian Fiction
(3-4 credits)
Instructor: Susan Brantly
Course Description: Description to come!
LITTRANS 366 – Enlightenment, Sovereignty, Democracy
(3 credits)
Instructor: Kirill Ospovat
Course Description: The course will explore the dual political face of Enlightenment, turned at once towards sovereignty and democracy, freedom and governance, revolution and enslavement. We will discuss these topics in the context of global Enlightenments, with a specific focus on Russia, tracing them through the works of philosophers (Francis Bacon, Immanuel Kant), social critics (Guillaume Raynal, Aleksandr Radischev), monarchs, republicans, and freed slaves.
LITTRANS 438 – Sexual Politics in Scandinavia
(3 credits)
Instructor: Liina-Ly Roos
Course Description: The Nordic countries are known for being some of the most egalitarian and sexually open countries in the world. In this course we will explore how they have achieved this reputation, focusing on a variety of sources since the Moral Debates of the 1880s. We will discuss literary works, films, art, television, and critical articles to explore the ways in which Nordic societies and cultures perceive and understand gender and sexuality. We will also complicate some of myths regarding sexuality in the Nordic countries and explore how gender and sexuality are intersected with race, ethnicity, social class, and the rhetoric of the welfare state.
Prerequisites: Sophomore status or higher.