"The adaptability and cultural sensitivity you learn from a program like this exceeds almost anything I have learned inside the classroom."
Program: Bogazici University Exchange, Spring
Student's Major: Microbiology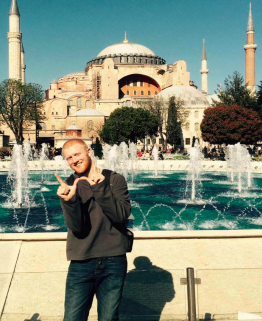 Academic Life: The classroom experience was much different than here at UW-Madison. All of the side chatter was in Turkish, while the actual lectures were supposed to be in English, although sometimes the professors would switch to Turkish. It was a bit tougher to predict what would be on tests. The classroom setting was similar aside from smaller classrooms. There were just lectures, no discussions. We had Americans, other international students, and Turks alike in our classes. I took a Biology seminar, Cellular Biology, Economics, and Turkish.
Tips for Someone Considering Turkey: I would say, just know there are going to be ups and downs. The ups will greatly exceed those one or two days that you wish you were back at Madison. The Turkish system is very different, and everything takes a little bit longer to "happen." In all seriousness, I would spend every moment in Turkey. I did some side traveling after my semester, but nothing compares to the endless sights and awe you can find from Istanbul to Trabzon to Kusadasi, to the far east at Mount Ararat. Get to know Turkey, because you will find it amazing.
Integrating Study Abroad with a Future Career: I think that the whole adaptability trait one gains from studying abroad is a necessity for any person looking to get hired (and will really set you apart from other applicants). Knowing that this person they are looking to hire has a sense of cultural sensitivity and knows how to make the move and develop new friendships and partnerships is essential for a company to run smoothly.