Sarah Ferchau
German
Graduate Student
Languages: German, Japanese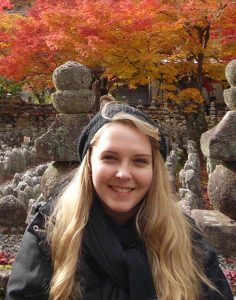 ---
Area(s) of Study: Second and foreign language acquisition of German. (Pre-Service) language teacher education. Reflective practice and teaching in the foreign language classroom. Creation and reviewing teaching material for German. New media in the foreign language classroom.
About Me: Right now, I am preparing for my prelims for my Ph.D. in German and Curriculum and Instructions. I am planning to explore in my dissertation study how reflective practice and teaching influences the foreign german language classroom.
Before joining UW-Madison in 2018, I received my BA in Modern Japanese Studies and English from the University of Duesseldorf and my MA in German as a Foreign/Second Language from the University of Vienna. Since 2010 I have taught German to students and adults at the Volkshochschule (adult education center ) in Germany, Japan, and Austria. In 2015 I became a certified examiner and trainer of the Österreichisches Sprachdiplom Deutsch (ÖSD, Austrian Language Diploma for German) for the levels A1 – C2. My first teacher manual, accompanied by 12 worksheets for Hueber was published on their website in the fall of 2019.
Education:
– University of Vienna, MA in German as a Foreign and Second Language (2017)
– University of Dusseldorf, BA in Modern Japanese Studies (with English minor) (2014)
Courses Taught:
UW-Madison:
– GERMAN 101: First Semester German
– GERMAN 102: Second Semester German
Teaching intern for the lecture course on Kafka and the Kafkaesque
Other Institutions:
– German as an FL A1-C2
– German for Studying Abroad