Charlotte Emma Vanhecke
Linguistics
Graduate Student
Languages: Dutch, English, Swedish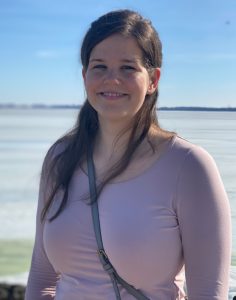 ---
Area(s) of Study: Historical linguistics. Language variation & change.
Pronouns: she/her
About: Charlotte is a PhD student in Linguistics with an emphasis on historical linguistics and heritage language linguistics. She holds a master's degree in Literature and Linguistics with a focus on English and Nordic from the University of Ghent (2009). Her current research focuses on the phonology and historical sociolinguistics of heritage Dutch in North America. In addition, she has worked on sound change in regional varieties of English and the historical phonology of the Algonquian language family. Charlotte is also an experienced language teacher and serves as a Dutch teaching assistant.
Education:
– Ghent University, MA in Linguistics and Literature with English and Nordic Studies (2009)
– Ghent University, BA in Linguistics and Literature with English and Swedish (2008)
Courses Taught:
– GERMAN 111: First Semester Dutch
– GERMAN 112: Second Semester Dutch
– GERMAN 213: Third Semester Dutch
Awards:
Fulbright Foreign Language Teaching Assistant Award (2015)
Selected Publications:
Forthcoming: Jeremy Biedny, Andrea Cudworth, Sarah Holmstrom, Monica Macaulay, Gabrielle Mistretta, Joseph Salmons, Charlotte Vanhecke, & Bo Zahn. Lexical Relationships in Central Algonquian. Papers of the Algonquian Conference.