"I feel more wordly, confident, and independent now than I did before I traveled abroad!"
Program: University College of Southeast Norway, Spring
Student's Majors: Life Sciences Communication, Scandinavian Studies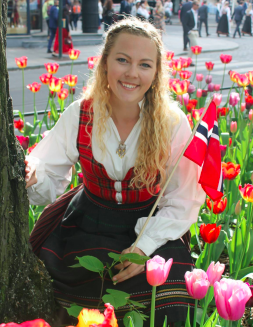 Academic Life: I took the Scandinavian Studies track at HSN, which is a study track for international students. My classes consisted of Peace Studies, Cultural Expressions of Telemark (history and culture of the region), Outdoor Education, and Norwegian language. The classes were not nearly as structured as a classroom at UW. This was somewhat frustrating at times, but I eventually learned that this teaching style allowed me to learn about topics discussed in class independently.
Housing: I lived in an international housing community and I loved my little home. Although it was on top of a large hill (about a 20 minute walk from the school), the place was perfect and I had a beautiful mountain view to wake up to each morning! My house had two stories with four bedrooms on each floor. Each floor had a kitchen and living space to share with the people on your floor.
Impact of Study Abroad: The biggest change I've experienced is learning that regardless of where you go in the world, people are just people. Being open to different cultures, religions, and other ways of life has shown me that people have far more similarities than differences. As an American in this day and age, I think this is a lesson everyone should learn and experience, regardless of where you study.
Advice for Someone Considering Norway: If you like to be outside, Norway is for you! This program allows you to earn college credit for camping outside on skiing expeditions! Although my study track wasn't nearly as active, I was able to take one course that involved skiing expeditions and it was so much fun! Norwegian nature is unlike anything else I've ever seen- it's a MUST if you love mountains, waterfalls, seas, and everything in between! I loved Norway and would go back in a heartbeat!