"Studying abroad in Russia really helped me experience a new culture and improve my language skills."
Program: ACTR Russian Language and Area Studies Program (RLASP), Summer; St. Petersburg, Russia
Student's Majors: International Business, Marketing, Russian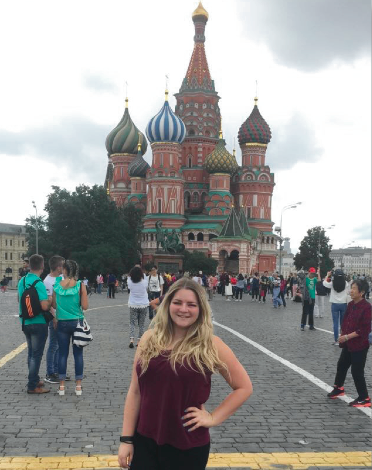 Academic Life: There were only four people in my main classes of grammar, phonetics, and speaking practice. I really enjoyed the small size. You got a lot more one-on-one time with the teachers. I had two larger classes which were Russian politics and a culture class. I absolutely loved the culture class. The students in my classes were all students in my program from the United States.
Housing: I lived with a host family. It was mother in her 50s and her daughter who was in her late 20s. They were both very welcoming and kind. Every night my host mom would cook for me and then we would sit at the dinner table and chat for a while. I think having a host family really helped me improve my language.
Tips for Future Students: If someone was considering studying abroad in Russia I would tell them to pick St. Petersburg as their city to study in! I took a weekend to visit Moscow but I enjoyed St. Petersburg more. Additionally, one of my majors is International Business and it is very advantageous to know two or more languages.
Initial Impressions: I was so nervous when I first arrived. It took me about a day or two to adjust to the time difference and speaking a different language everyday, but after I became more relaxed it wasn't such a big deal.