"Everything I learned this semester is going to impact my future life, as I have changed and grown from this experience."
Program: University of Bonn, Spring
Student's Majors: Nursing; German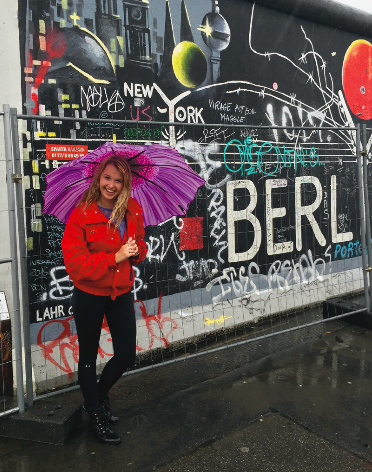 Academic Life: The first month in Bonn we went to class for roughly 12 hours a week for an  Einführungskurs, or orientation course. This course included lessons on grammar, vocabulary, and ended in both a verbal and written evaluation. During the regular semester, you could elect to take either courses offered through Bonn's study  abroad office or take university courses. I took writing, history economics, choir and media courses through Bonn's study abroad office.
Housing: I lived in a dorm in Bonn. I had a single room with my own bathroom and small kitchen. My dorm was situated in a nice area, 10 minutes (by bus) from downtown Bonn. This distance was very common among the  other students studying abroad.  The dorms are not owned by the University, so they are somewhat spread out. They are all within a 20 minute bus ride from class and the main city. There was a bike path outside my dorm that spanned several miles. It was a lovely area with a grocery store within walking distance.
Home Away from Home: Germany is definitely my second home. I love everything about their language, culture, goals, and ideas. I have loved Germany since my first experience there when I was 12. Throughout my time abroad though, I truly fell in love with everything about the country. No matter where I travel, I will always choose Germany as my favorite place. It is truly my home away from home.
Benefits of Study Abroad: Studying abroad has made me a more open-minded and quick-thinking individual. I aspire to be a nurse, so this will help me interact with my patients and understand people who come from different backgrounds than me. I have learned to think quickly on my feet, which will help me in critical patient situations. I came across problems when trying to communicate, and communication is vital in the field of nursing.