"Studying abroad will set me apart because it has helped me gain cultural knowledge."
Program: CIEE Central European Studies in Prague, Fall
Student's Major: Political Science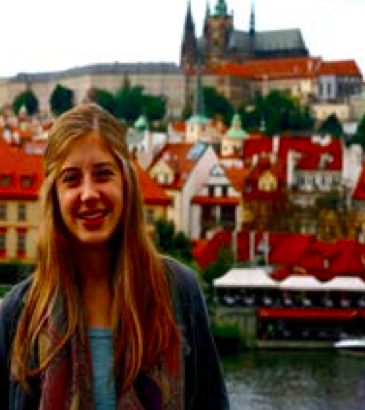 Academic Life:  I took five classes during the semester, all taught by Czech or European professors, with mainly American students. I took classes on politics and economics in the European Union, how totalitarian regimes were represented through the arts, anthropology of Czech society, migration in Europe, and knowledge and insights from the communist era and the 1989 revolution that we  learned about.
Internship Location: I interned at the Fulbright Commission, which is a Czech-U.S. government organization that helps Czech students study in the United States and American students study in the Czech Republic. As an intern I helped proofread documents and the website, create materials, and represent the organization at study abroad and college fairs.
Tips for Future Students: My advice for studying abroad would be to explore Prague and the rest of the Czech Republic to the fullest; there is a different feeling to visiting places in the country that you are living in, rather than just temporarily visiting, and it feels like the more you explore the country the more you belong.
Benefits of Studying Abroad:  I think that studying abroad will set me apart because it has helped me gain cultural knowledge  about an area that I didn't know much about, and helped me make connections between past and current events, as well as world events, that I hadn't before.