"I miss hearing the Russian language being spoken every day around me."
Program: ACTR Russian Language and Area Studies Program (RLASP), Summer; St. Petersburg, Russia
Student's Majors:  Accounting, International Business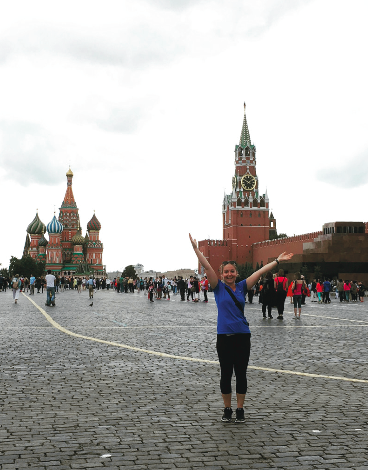 Academic Life: We were split up into 4 groups of about 4 or 5 students. We had Grammar, Phonetics, Conversation Practice, Word Formation, and Russian Politics, Economy, and History. Our teachers were Russians who are experienced in teaching Russian as a second language. We had class 4 times a week for about 5 hours. The homework load was very manageable. I felt I learned a lot and was challenged, but still had time to see the city.
Housing: I stayed with a host mom.  She had an apartment in the southern part of St. Petersburg. It was a Soviet era building made out of concrete. The inside was very comfortable, though.
Advice for Someone Considering RLASP: I learned so much more about Russia that I never would have learned in the U.S. My listening comprehension is exponentially better and my speaking as well. Never go home right after class; go see a museum or church. There are so many of them in downtown St. Petersburg and they are so easy to get to. The university location is very convenient.
Benefits of Study Abroad: I feel ten times more confident in myself. When I came back I felt like I could do anything. If I could get through trying to communicate with Russians for 2 months, nothing is impossible now. Also, I have experience in Russia and understand their culture. I know specifics of their language that I probably wouldn't have picked up on in class in the U.S.
Tips for Future Students: See as much as you can. You will regret it if you don't go out and see the country you are blessed to have the opportunity to be in.