"Studying abroad forced me to step up my confidence and self-trust; I simply had to figure things out on my own for a while. This mindset of self-leadership has stayed with me."
Location: Germany
Life After Study Abroad: It's hard to stop traveling once you've studied abroad and lived even just a few months in another country. After my semester in Bonn in 2009 and graduating in 2010, I spent a year on a Fulbright grant teaching English in Germany, worked a short stint as an au pair outside Frankfurt, and traveled through Southeast Asia before, during, and after working for two years at the American Chamber of Commerce in Germany. I chose Thailand as a place to transition into a more entrepreneurial path, and lived in Chiang Mai for 5 weeks while freelancing and getting trained as a life coach. Since returning to the States in late 2013, I've moved out to beautiful Boulder, Colorado to build The Traveler's Mindset, an online platform that supports Americans in traveling internationally through coaching, consulting and high-quality e-resources like this guide to scholarships, grants, and  fellowships that actually fund you to travel abroad!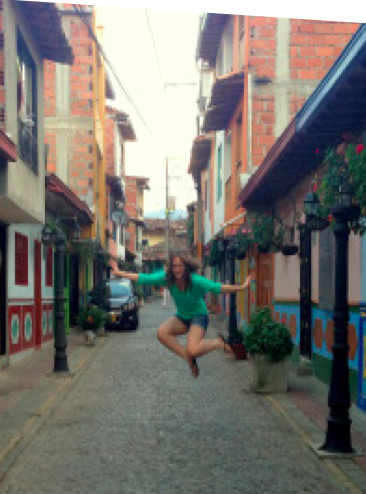 Impact on Life, Goals & Career: The semester I spent studying in Bonn flipped my mindset inside out as to what was possible for my life. I saw that the European lifestyle was one I wanted to live, and solidifying my language skills gave me the confidence that one day I'd actually be able to fly back to Germany, and set up my life there. That dream became a reality just a year and a half later, when I started my Fulbright English Teaching Assistantship. I knew I wanted to live there longer. After job searching, I  landed a full-time position in publishing and communications, one that luckily required a native English speaker with fluency in German.
My time working in Frankfurt after the first 'honeymoon' year teaching English showed me some very high ups and downs. Living "alone", feeling isolated, feeling unsure of yourself an ocean from friends and family is definitely challenging at times. It forced me to step up my confidence and self-trust; I simply had to figure things out on my own for a while. This mindset of self-leadership has stayed with me until today, as I run my own coaching/consulting practice and speak at universities and other organizations around the States.
Advice for Returning Students: You might feel extremely discombobulated when you get back from studying abroad. The first few months after my semester abroad I was back in Wisconsin, and everything seemed off. I didn't enjoy the lifestyle of people around  me and I missed the friends I had left behind in Germany. The reverse culture shock was much worse than the initial cultural adjustments I had had to make when I started my study abroad program in Bonn. It's okay to feel like you don't fit in anymore, or to be frustrated that your friends who stayed home might not understand that you've changed. Just know that there's a whole new type of community available for you to connect to now–people with adventurous values, a global mindset, and a well-rounded idea of all the amazing possibilities you can actually turn your life into.