"I snorkeled in glacial water that filled a fissure between tectonic plates. It was very cold, clear, and unlike anything I've ever seen."
Program: University of Iceland Exchange, Spring
Student's Majors: Geography, Cartography/GIS, Environmental Studies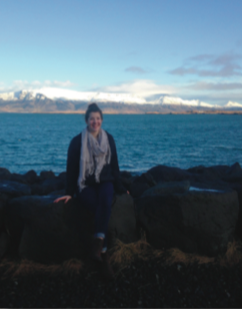 Academic Life: I took mainly geology courses and one political science course. Some of my classes were half exchange students and half Icelandic students, but some courses had only exchange students. The classes were mainly taught by climate science researchers with vast knowledge. The classes seemed to mainly consist of group projects or presentations, and some tests as well, but not as many as UW-Madison.
Fieldwork Abroad: I did fieldwork within both volcanology and glacial geology. They took place in parts of Iceland with especially high volcanic activity or presence of glaciers. Fieldwork is crucial to someone looking into a research-related field. Many research jobs require some form of previous experience, and fieldwork is a great way to show interest in discovering things first hand and assimilating data to useful conclusions.
Housing: I lived in an apartment with one other student from UW and another exchange student from Germany a few blocks away from downtown Reykjavik. It was very close to any sort of store that you might need. The university does not provide much campus housings and most exchange students find apartments in the area. My apartment was small, but a comparable price to university housing, and I definitely didn't have any trouble meeting people even though I lived farther away.
Advice to Someone Considering this Program: Be prepared for a lot of extremes-weather, scenery, and overall environment in Reykjavik, both good and bad. The daylight in the winter months is slim, and there is often a lot of brutal rain and snow. However, some of the scenery is unlike anything else in the world. It is a beautiful country with many hidden gems, but it's not like the postcards 100% of the time.