"DIS wants to help you experience Copenhagen."
Program: Danish Institute for Study Abroad (DIS), Summer
Student's Majors: Biology, Dance Certificate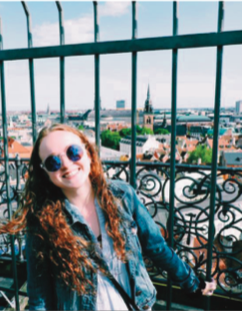 Academic Life: DIS offered me a new academic experience. My first class was taught by a local lawyer covering sex trafficking. I took a fieldwork course about the Roskilde Festival, a music and arts festival in Roskilde, Denmark every summer. We volunteered at the festival for all 7 days. I learned so much about Danish culture.
Most Memorable Moments: I will always remember the friends I made abroad. One of my favorite nights with them was going to Nyhavn and putting a lock on the bridge like couples do and promising to be friends forever. Our group chat has still not quieted down.
Finding Inspiration: Although I didn't take any classes relevant to my major, I dug into my career aspirations while abroad. I talked to people about their jobs, how they got there, why they do it, etc. I found the courage to consider law school and to work in a field that I am passionate about.
Benefits of Study Abroad: I think studying abroad gives you the upper hand of really trying to understand people. Each time I live in a new country, I gain a respect for other cultures that keeps growing. Everything that "annoyed" me while I was in Copenhagen is never a downer to me, because it is part of their culture. I have a thirst to learn about new cultures and understand that they are different from mine, which is a great thing.
Tips for Future Students: Be prepared to be uncomfortable and have bad days. No matter how perfect your new city is, you are human. You will get sleep deprived, stressed, and sad. Embrace all of it. When you return, you can look back on your experience and value those days of "humanness." It really makes you find yourself and understand how to take care of yourself.