"Studying abroad showed me that I would be willing to work anywhere in the world, and that everywhere is a new adventure."
Program: CIEE Central European Studies in Prague, Summer
Student's Majors: Anthropology, Archaeology, Criminal Justice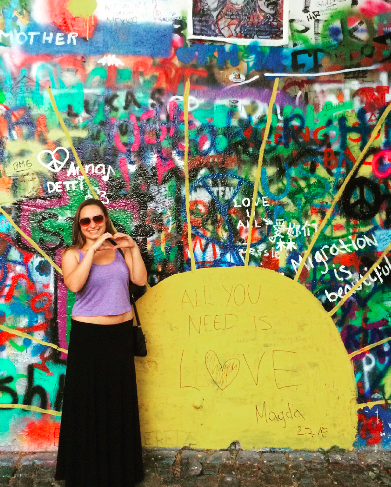 Academic Life:  While in Prague, I took a literature class on Czech fairy tales. The class was made up of 8 students, all American, from various states across the country. The class combined in and out of classroom learning opportunities, with weekend trips to enhance the subjects we had covered earlier in the week. The class was taught by a Czech professor.
Housing: I lived in an apartment close to the pubic transportation, but it took half an hour to get to class.
Most Memorable Moments: My most memorable experiences were walking around the Old Town and seeing the Charles Bridge at sunset.
Cultural Differences: Every day activities were much more relaxed and slower than in the US. I learned that I like to move at a fast pace and that sometimes, it is alright to relax and go with the  flow.
Tips for Future Students: My tip for students is to expect everything to be much less organized and structured than your school at home.