"I will always remember looking out over the rooftops of Istanbul until the last echoes of the prayers faded, being so glad that I had the opportunity to experience something so unearthly beautiful."
Location: Turkey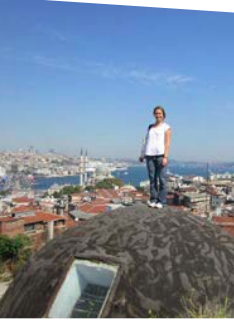 Life After Study Abroad: After my junior year abroad in Istanbul, I returned to UW-Madison to complete my senior year as a biology and botany major. I continued learning Turkish that year, and realized I hadn't had enough of Turkey. Since I knew the U.S. Department of State ran a student internship program, I applied for the opportunity to use my science background and Turkish language skills in a new context: diplomacy! Awarded the internship, I flew back to Turkey for my 'super senior' fall semester in 2013, this time working in the U.S. Embassy in Ankara. There I spent three months working with diplomats and NGOs to identify Turkey's position on current issues in science, environment, technology, and health.
Having had a taste of science and policy abroad, I returned to academic science at home in late 2013 and graduated in spring of 2014. Next, I turned westward to California to begin a technician position in a microbiology research lab at Stanford University. I spent the next two years pipetting away in the lab, learning all that I could about our inner bacterial ecosystems-the human microbiome- and preparing to apply for graduate school.
As of now (fall 2016), I am a 1st-year PhD student in the Microbiology & Immunology Department at Stanford. I study a bacterium called Helicobacter pylori, a literal stomach bug that leads a dual lifestyle: it's the leading cause of gastric cancer worldwide, but may also reduce our risk of developing asthma and allergies. My goal for graduate school is to better understand similar human-associated microbes-ones that have an impact on global human health.
Impact on Life, Goals & Career: More than anything, studying abroad gave me the perspective to understand that my life, my goals, and my interests are a very small slice of everything that's going on in the world. When I'm stressed, it's comforting to think that someone somewhere is drinking tea out of little glass cups while playing backgammon, like my Turkish friends and I did in Istanbul when we had down time. It's also humbling to think that while I worry about my experiments in lab, there are people elsewhere, like the Kurds in Turkey and Iraq, fighting for the right to have a homeland.
Studying abroad also taught me that it's important to know your values-how far away from your family and friends are you willing to live? Are you willing to devote every waking moment to your career or do you want to have a family/travel/explore the world, and when? After studying abroad, I decided that I want to remain in the United States to be near family, but I also want to address issues- like global health- that help people at home and abroad.
Advice for Returning Students: Don't underestimate reverse culture shock- it was the hardest part of my study abroad experience, but also the most empowering! I'd spent an entire year away from my friends, building memories in Turkey that they couldn't share. The hardest part of coming home was rebuilding the relationships and connections that I'd put (mostly) on hold for so long. However, it was also great because it made me think about which parts of my life in Madison were most important- which of my friends I most wanted to see, how important it was to stay in touch with my family, and which parts of my academic career I loved enough to turn into a professional career. All in all, I felt that leaving the U.S. allowed me to come back to it with fresh eyes, and it gave me a fresh take on how I wanted to live my life as a U.S. citizen.