"Do not be afraid to study abroad and be by yourself."
Program: ACTR Russian Language and Area Studies Program (RLASP), Summer; St. Petersburg, Russia
Student's Majors: Microbiology, English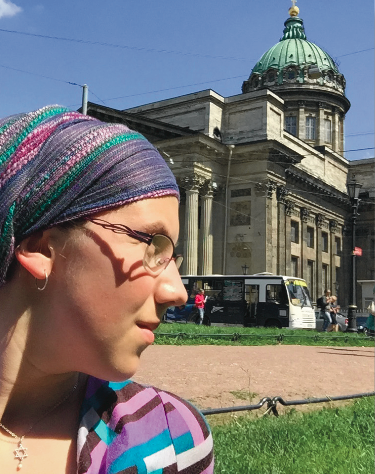 Academic Life: I took classes in Grammar, Phonetics, Practical Speech, and History of the Russian Federation. The first three classes were individualized as I was part of the Heritage Speakers Program. The History of the Russian Federation class was taught to a group of about twelve American students. All classes were taught by Russian teachers.
Benefit of Study Abroad: I have a better understanding of cultural interactions across different countries, as well as an understanding of how social issues translate, or do not translate, from U.S. culture to Russian culture. Do not believe any American  propaganda about Russia or Russians.
New Perspectives: I have found a love for myself, as well as an understanding of how to better be happy and content with my life. I have completely changed my outlook on life, on education, on self-care, on love, and on happiness. I am a completely different person who has learned about who I am.
Most Memorable Moments: I lived with a host family, and one of my most memorable moments was walking around the city with my host mother.
Home Away From Home: St. Petersburg became like a second home because I felt happier and more comfortable in Russia than I did in America. I would like to go back to Russia to conduct medical research in some of their top-notch scientific facilities.