"It was unbelievable to travel the country and see the marvelous ecosystem and ancient Viking sites."
Program: DIS: Study Abroad in Scandinavia, Summer
Student's Major: History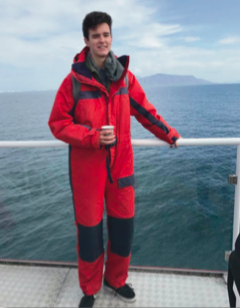 Academic Life: My academic experience was amazing. The class I took was called World of Vikings: Facts, Fiction, and Fantasy. The classwork consisted of a lot of how modern culture views the Vikings, so we watched shows like Vikings and Game of Thrones to see how they were portrayed. We also went all over Denmark to see Viking ships and settlements. Our study tour in Iceland was perhaps the best part of the trip as we went all over the country and did things like whale-watching and rowing Viking ships.
Advice for Someone Considering This Program: I would advise anybody considering the program to do a lot of research on the city before going. I went in without many things planned and was still able to do everything I wanted only because the friends I made had a list of things to do. Time flies when you're there and it's important to set out a few concrete things to see.
Housing: I had an unbelievable living situation in Copenhagen. It was a residence hall through DIS in which I lived with people from all over the United States. I had about a thirty-second walk to class and our hall was right in downtown Copenhagen. Being situated in the heart of Copenhagen was great because we were within walking distance to just about everything in the city.
New Perspectives: Even though it sounds cliche, I feel a lot more worldly having traveled abroad. Not only did I make great relationships with people I met in Copenhagen, but I met some great people from all over the United States who I still talk to regularly. It helped me gain a lot of perspective on how people outside of Wisconsin and even the United States live.