"Study abroad has undoubtedly changed me."
Program: University of Copenhagen Exchange, Academic Year
Student's Major: Scandinavian Studies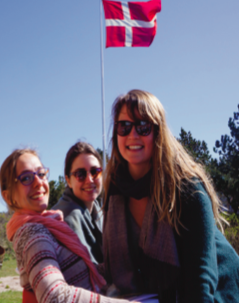 Academic Life: I loved the university setting in Copenhagen. I was on two different campuses (Social Sciences and Humanities) and generally met once a week for the class. Many of the classes had guest lectures and lots of student discussions. I took both master's and bachelor's level courses, both of which were lovely. There were some Americans in my classes, but in some classes I was only with Danes.
Housing: I lived in a student dorm (Righospitaletskollegium) where 15 students each have their own room and bathroom but share a kitchen. It's located in Nørrebro. I was the only international person with 14 other Danish students. They taught me a million different things: from weird Danish slang to traditional meals or funny children's songs and games.
How Study Abroad Sets Samantha Apart: I speak Danish fluently now and am actually teaching it at the university. I think studying abroad really gave me an edge for a few reasons, like new skills learned and new experiences (while I was there I wrote for the student newspaper and volunteered teaching refugees), but it also gave me a new cultural understanding and a way to look at and approach things in a new way.
Samantha's Advice for Someone Considering This Program: Bring Vitamin D! Despite all the lovely things about Denmark, it can be super grey and rainy. Also LEARN SOME DANISH, even if it's only one semester. I can't even count the number of people that have lived there and regretted that they haven't learned more of the language. It makes a huge difference in the experience. GO FOR IT! Copenhagen has so many opportunities. The city has all the opportunities of a large, metropolitan city but definitely feels like a small/medium city and that comes with this Danish sense of "hygge" or "coziness."