"Have an open mind and don't be afraid to try new things."
Program:Denmark, Aarhus, University of Aarhus Exchange, Fall
Student's Majors: International Studies, Communication Arts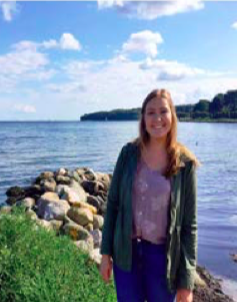 Academic Life: I took Middle Eastern Politics, Literature in English 1, and Celebrity and Fandom Studies. Classes at AU are typically smaller lectures with lots of group work, both with international and Danish students. There aren't too many Americans that study at AU, which gives American students a great opportunity to meet people from all over the world. Classroom settings in Denmark are typically informal; the professors prefer to be called by their first names and welcome debate and criticism of ideas.
Most Memorable Moments: I visited the city of Svendborg on the island Funen with my boyfriend and we toured a castle, stayed in a local artist's home (inside an old fire station), and had some amazing traditional, homemade Danish food.
Tips for Future Students: Have an open mind and don't be afraid to try new things, meet new people, and soak up as much local history and culture as you can. The beauty of studying abroad is all about expanding your world view and getting out of your comfort zone.
Benefits of Studying Abroad: Studying abroad taught me to adapt to unfamiliar environments, cross-cultural communication skills, and an in-depth understanding of cultural variations. Denmark has a very different political and social climate than the U.S., so through my travel experiences I learned to appreciate other ways of life and gained a broader, more critical world view.
"There aren't too many Americans that study at AU, which gives American students a great opportunity to meet people from all over the world."