"I have learned to be much more independent and open-minded."
Program: Danish Institute for Study Abroad (DIS), Summer
Student's Major: Communication Arts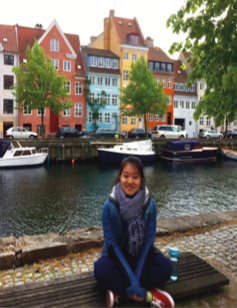 Academic Life: I took the class "Prostitution and Sex Trade." It was a rather small and casual class setting, and was more focused on discussion and debate rather than our professor lecturing us. The class was made up of American students and was taught by a Danish professor. She spoke very good English and I had no trouble understanding her. There was no final test, only two papers and one presentation which wasn't too bad. The session in total is 3 weeks and one week was spent in Amsterdam as our study tour to look in depth at the course's subject.
Most Memorable Moments: The study tour to Amsterdam was the highlight of the whole study abroad experience. What we learned from the readings, documentaries, and slides during the two weeks in the classroom gave us background knowledge of the experiences of sex workers. In Amsterdam, we met a few former sex workers which was a very eye-opening experience. It was very interesting to hear their side of the story in person.
Housing: I lived in a Danish student dorm. I had a single room which was very spacious compared to American dorms. It's rather far from the city center, but the public transportation is very convenient and biking is always a good choice in Copenhagen. I was also able to meet several international and Danish students which was great!
How Study Abroad Sets You Apart: Since being in college in the U.S. is already studying abroad for me, it's very similar yet still challenging to change the environment you study in again in such a short period of time. The class I took was very different than anything I had taken before and changed the way I think of things now. Living and traveling by myself in Europe was a great experience and it made me appreciate the things I had taken for granted in life.