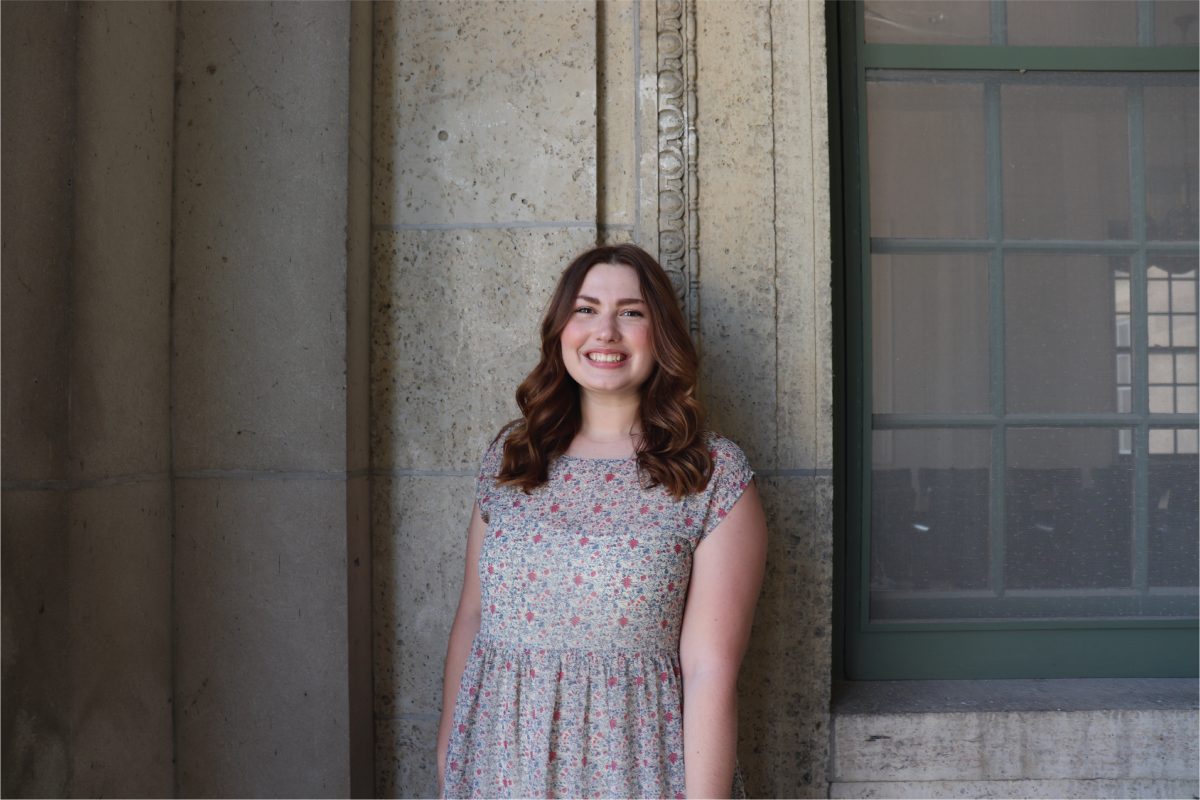 The Department of German, Nordic, and Slavic would like to acknowledge and congratulate GNS student Emily Janicik for receiving the L&S Honors Summer Senior Thesis Research Grant and the Hilldale Undergraduate Research Fellowship!
Emily Janicik is a rising senior majoring in Economics and German with Honors in the Liberal Arts. She is writing her senior thesis in collaboration with Professor B. Venkat Mani titled Xenophobic Policies in the Name of Gratitude: Refugee Experiences with the German and Austrian Governments. Emily's interest in refugees started when she took German 411 with Professor Mani and has continued as she has taken German 804 and studied abroad in Vienna, Austria. This spring Emily received both the L&S Honors Summer Senior Thesis Research Grant and the Hilldale Undergraduate Research Fellowship to pursue archival research for her thesis. These awards are both meant to enable students to undertake extensive research projects that show a significant intellectual contribution to one's field of study. In addition to funding Emily was also awarded the Area and International Studies Undergraduate Paper Award (IRIS) for her paper Xenophobic Policies in the Name of Gratitude: Refugee Experiences with the Conservative Austrian Government. She hopes to return to Vienna and Berlin over winter break 2020 to conduct fieldwork for her thesis if possible!
Emily seeks to study the 2015 refugee crisis through a comparative case-study of Germany and Austria, with a focus on the recent history and political context of the times. In the German speaking world, right-wing nationalist political parties like the Alternative für Deutschland (AfD, Alternative for Germany) and Freiheitliche Partei Österreichs (FPÖ, Freedom Party of Austria) have had a notable impact on public opinion of refugees, especially through the media, and by controlling governmental policies. Emily will examine government policies, media coverage, economic actions, and cultural affairs through the framework of interdisciplinary cultural studies to create a comprehensive review of the "refugee experience". The larger goal of her thesis is to dispel negative myths about refugees through the use of contemporary media sources, first-hand accounts, and economic data to prove that refugees are not a burden to society, but actually beneficial.
The 2015 refugee crisis in the European Union prompted a number of responses from national governments in order to help manage the large flows of refugees and migrants. While the EU is generally thought of as a safe place for refugees to go to as they are fleeing violence and persecution, some governments are more welcoming than others. In 2015, 1.3 million refugees came to the EU with more than 800,000 people travelling through Germany and Austria. Germany received 442,000 asylum applications and Austria received 88,340 asylum applications in this year, both large amounts in per capita measurements. The German government has created language and culture education courses, placed refugees in apprenticeships, and provided public benefits, all of which were encouraged by Chancellor Angela Merkel. In contrast, the Austrian government has taken a conservative stance by decreasing funding for German language education, imposing stricter asylum rules, and forcing "Austrian" values on new refugees. Emily hopes to examine differences in government policies, economic impact, and media influence for refugees in Germany and Austria.
From all of us at GNS we wish Emily the best of luck in her research going forward and can't wait to hear more about her academic journey in the future.