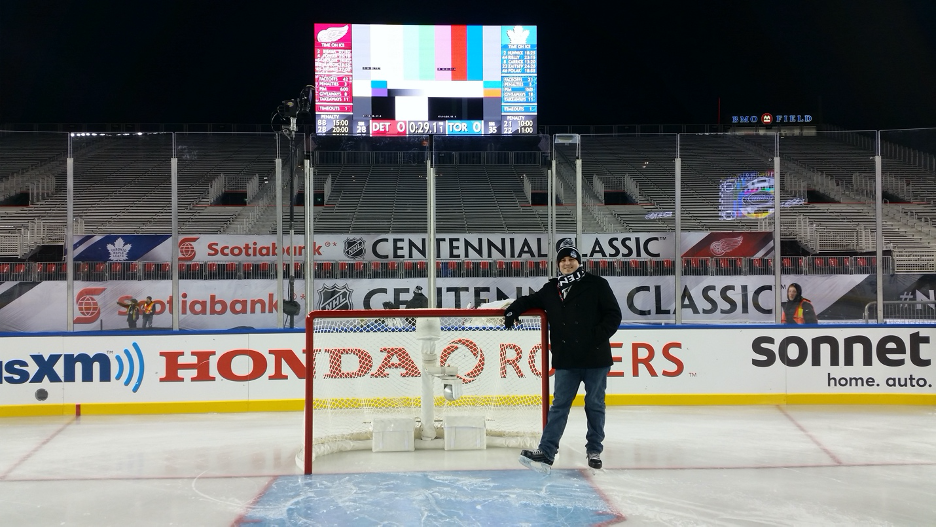 Ice Dreams
You never know where a language degree can take you. Tim Butler's Russian studies helped him land his dream job with the National Hockey League.
By Laura Marshall
---
Tim Butler, a native of Whitehall, Wis., is a 2014 UW-Madison graduate with degrees in Russian and History. As a student in the Russian Flagship Program here, he studied abroad in Moscow and St. Petersburg, Russia, and the experience helped him land a dream job as a producer for the National Hockey League's international department.
Tell us about your job as a producer with the National Hockey League.
I work out of NHL headquarters in Manhattan (from my home since the onset of the pandemic). I started in the summer of 2016, after a friend referred me to a job posting for the NHL international websites. I though it looked cool and was lucky enough to be hired, thanks to my skills with Russian. I work the night shift, so a normal day for me is coming into the office around 7:00 pm, watching all the games, and then selecting the top highlights to get translated. We work closely with a team of translators around the globe to translate the highlights, news items and nightly recaps of action across the league. We will then post those onto the NHL websites and push them out to social media. On a normal night, we usually wrap up around 3:00 am or so. On several occasions, I have been sent to cover special events such as outdoor games (Centennial Classic, Stadium Series), where I was able to get access to the players locker rooms for post-game interviews!
What opportunities do you have to use your Russian language skills or intercultural competencies in your current work (and/or how do you hope to use them in the future)?
We have seven different foreign language websites, but our Russian page is the largest and most read, so we focus on that one the most. My language skills come in handy doing spot editing while posting stories, and for quick translations of in-game highlights. Our dedicated translators do most of the heavy lifting when it comes to translation, but my knowledge definitely comes in handy. In the future, I hope to come into a role more directly involved with promoting and growing the NHL's presence in Russia.
How do you maintain your language skills? Do you have any recommendations or tips for current students or alumni who want to keep their language skills fresh?
I work with a lot of Russian text, so that keeps me fairly sharp (at least on hockey-related vocabulary), but I would definitely suggest finding someone you can just converse with regularly to keep your skills sharp. Otherwise, reading Russian news definitely helps.
How did your experiences in the Russian Flagship Program influence your career trajectory? 
Without the Russian Flagship experience, I wouldn't have anywhere near the proficiency I have in Russian today, and I doubt that my resume would have garnered a second glance from the NHL. I think it also shows employers your level of commitment and dedication. The Russian Flagship Program has, without a doubt, opened doors for me that I would never previously have considered possible. Additionally, my success in the program and independent traveling while overseas gave me the self-confidence and trust in myself to succeed following graduation.
You had a capstone internship. Can you describe it for us?
I had my internship at Exact Poll, a lovely public opinion polling office. Most of my work involved poring over transcripts from focus sessions and analyzing polling data. I found this to be super interesting in figuring out what your average Russian thinks about a wide variety of topics. My favorite memories from this internship, though, were taking a questionnaire booklet and polling my host-dad. He was a very interesting dude with some very unique insights into Russian culture and politics, and I learned a lot from his answers.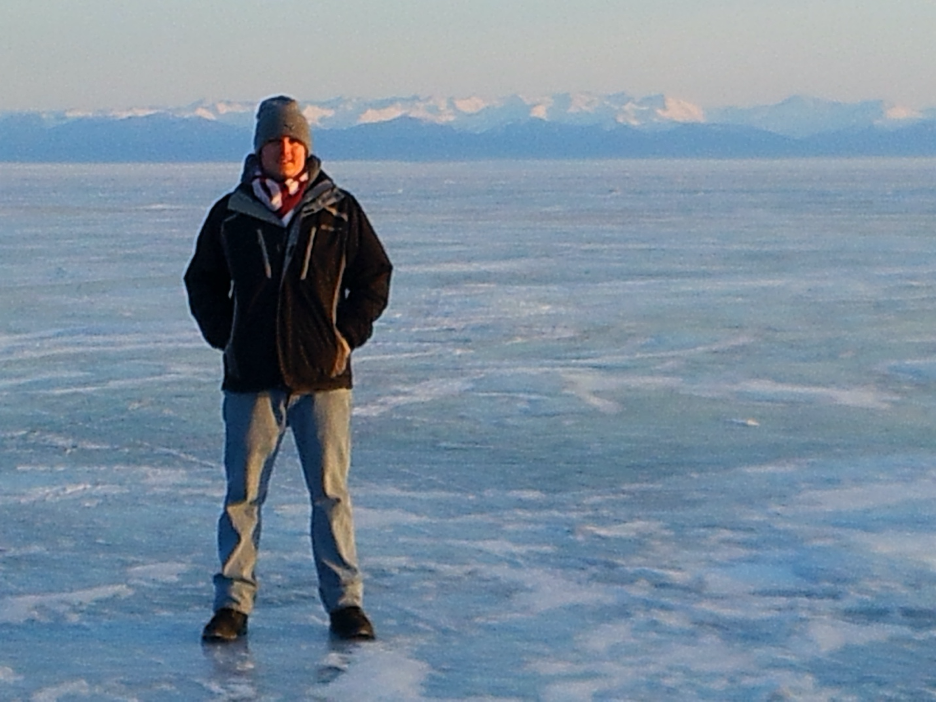 Tim Butler stands on Russia's Lake Baikal during his 2013-14 capstone year abroad, during which he studied in St. Petersburg and traveled across Russia on the Trans-Siberian Railroad.
Tell us about a favorite memory or experience that has stayed with you from the Russian Flagship Program. 
My favorite memory is of a solo trip I took during spring break along the Trans-Siberian Railroad. It was fairly late in the program by this point, so my language skills were really taking off and I was able to navigate everything with relative ease. I had a lot of very interesting, perspective-changing conversations with the people on the train. I'll never forget the looks on some of their faces when they realized I was actually an American, because my Russian was good enough to make them think I was a native Russian! It was a real "payoff moment" for all of the hard work that I had done over the years to get to that point. That trip gave me the confidence in my language skills and in my ability to navigate the world at large that I still carry today. Oh, and Lake Baikal is absolutely beautiful!
Any other advice or wisdom to share with current students or alumni of Russian (or any other language)?
Keep on trucking! Russian is a hard language, and it takes work. If you're interested in anything to do with Russian, though – the language, culture, history, nature, whatever – I promise you that the work will pay off. The Russian Flagship Program undoubtedly influenced my life beyond the classroom. Learning a language is more than just understanding grammatical structures and memorizing vocabulary – it's about better understanding a cultural context and the deeper, nuanced meaning behind words. Being immersed in another culture helped me to look at the world from this different context and re-examine some of the "truths of the world" that I thought that I knew. In other words, the Russian Flagship Program will teach you to speak fluent Russian, but it will also teach you a lot about the world and yourself.
Link to the original article can be found here: https://ls.wisc.edu/news/ice-dreams