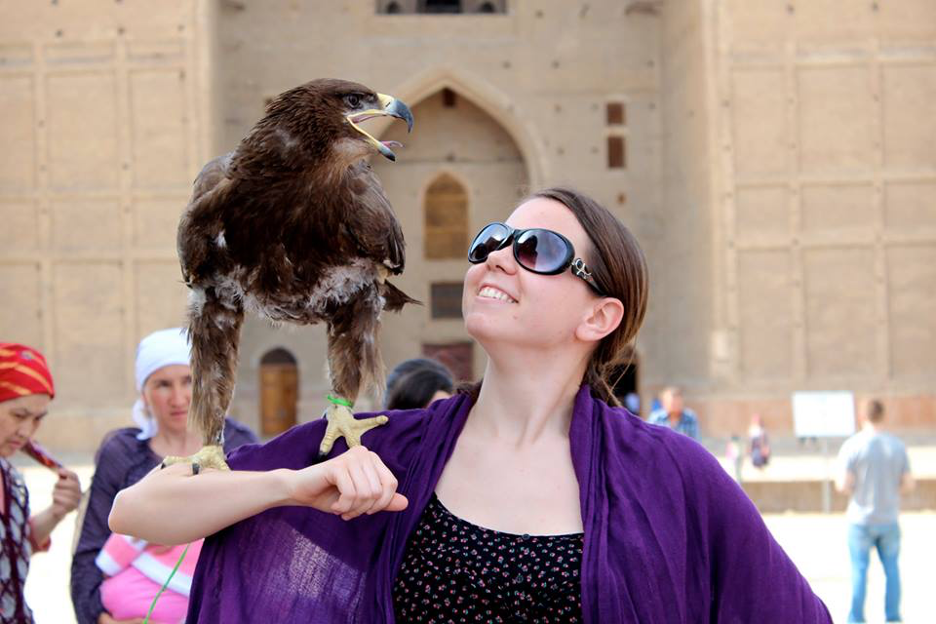 Julianna Stohs
Major(s): Political Science, Economics, and Russian, 2016
Pre-capstone study abroad: Moscow, Russia
Capstone study abroad: Almaty, Kazakhstan
Hometown: Madison, Wisconsin
Q: Tell us about your current work! What do you do and where are you located? How long have you been in this position and how did you get started? Describe what a typical day is like.
A: I work at the National Endowment for Democracy in Washington, D.C. as an assistant program officer on the Eurasia program team. I oversee a portfolio of grants to civil society organizations in the South Caucasus for democracy promotion activities, including independent media, civic and youth engagement projects, investigative journalism, and human rights reporting, among other areas. I started working at NED three years ago after completing my graduate studies (Accelerated Master's in International Public Affairs at UW-Madison's La Follette School of Public Affairs) in 2017. I initially became acquainted with NED when I had an internship there in the summer of 2014 as part of the Wisconsin in Washington program (at that time, under the auspices of the Political Science Department). Those connections from my internship were useful in helping me to secure my full-time position a few years later. In a typical day, I review several Russian- and English-language news sources to enhance my understanding of current events and political developments in the countries within my portfolio. I correspond with grantees and prospective partners to monitor ongoing projects and vet new applications. I draw upon my understanding of the political context in the countries in my portfolio to present projects up for consideration along with the strategic rationale for supporting these organizations.
Q: What opportunities do you have to use your Russian language skills or intercultural competencies in your current work (and/or how do you hope to use them in the future)?
A: I use my Russian-language skills on a daily basis when corresponding with grantees, as well as when monitoring various Russian-language news sources to stay abreast of recent developments in Eurasia. Additionally, some of our partners prefer to use Russian on video calls or when meeting in person, either in NED's office or when we travel to Georgia and Armenia on work trips.
Q: How do you maintain your language skills? Do you have any recommendations or tips for current students or alumni related to language maintenance?
I have found regular conversation groups, either in the local community or with Russian-speaking friends, to be valuable in maintaining conversation skills. In my opinion, conversational skills are the most difficult to maintain, so any opportunity to practice speaking Russian is valuable.
Q: How did your experiences in the Russian Flagship Program influence your career trajectory? Do you feel like this program helped you distinguish yourself professionally? Did prospective employers ever ask about your experiences?
The language skills and intercultural competencies I gained from participating in the Russian Flagship Program have been incredibly valuable for my career at the National Endowment for Democracy. In the interview process, I was asked about my capstone year abroad and tested on my language proficiency. The perspectives I gained from living and studying in Moscow and Almaty continue to inform my work to this day.
Q: Tell us about a favorite memory or experience that has stayed with you from the Russian Flagship Program. Why has this memory stayed with you?
It is so hard to pick just one! What has stuck with me most are the relationships I built with my fellow classmates and my tutors. I still stay in touch with a number of my capstone year compatriots, several of whom work in the DC area as well. We made it through the trials and tribulations (and joys) of that time together! Seeing them brings back memories of the capstone year excursions and of hikes in the mountains outside of Almaty, an activity I regularly enjoyed.
Q: Tell us about your capstone program internship. Describe your most memorable internship experience, any specific skills that you gained, or anything else that you think would be relevant or interesting to current students or alumni.
My internship was at a media company (Isker Media) producing a couple of different publications targeted to the business community in Kazakhstan. I helped to translate their marketing materials for English audiences and to transcribe interviews for publication. It was an interesting opportunity to learn more about the perspectives of entrepreneurs in the country, the challenges that they faced, and the hopes that they had for the future of their country.
Q: Anything else that you'd like to share or add?
When I first signed up for the Russian Flagship Program in my first semester of freshman year, I had no idea how much of an impact the program would have on my life – my studies, my career, my friendships. While the experience of learning Russian through the Russian Flagship Program was certainly challenging, it was also incredibly rewarding and continues to bear fruit to this day!