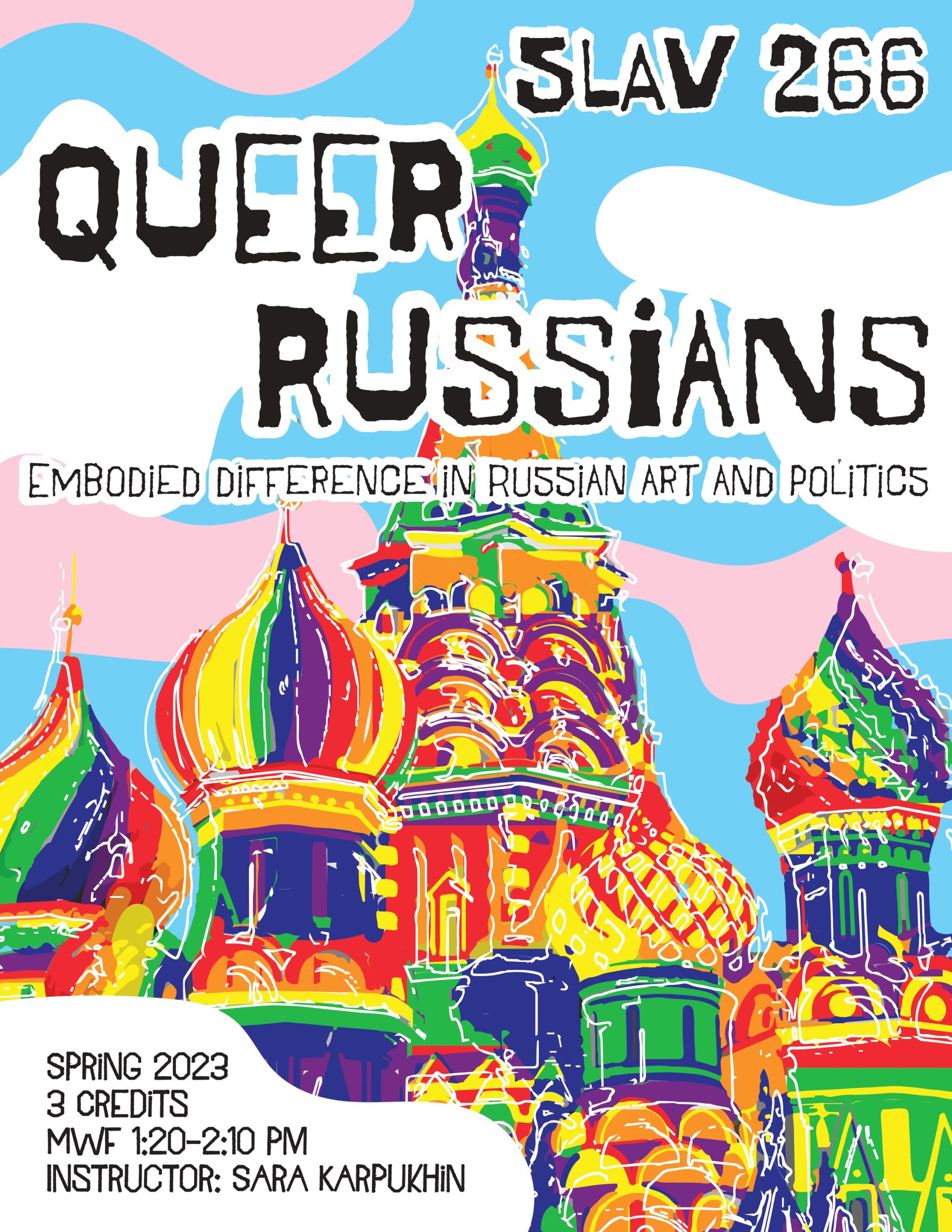 Dr. Sara Karpukhin is teaching "Queer Russians" for the first time this semester. We interviewed her to find out more about the course.
What motivated you to offer this course? 
Great question. Big question! I'll try to answer it briefly. On the one hand, I was always interested in how people thought and spoke about sexuality. In grad school, I researched sexuality in Ancient Greek and Roman cultures and ended up dedicating one chapter of my dissertation to Russian modernist uses of the classical tradition to legitimize or camouflage their own literary experiments with sexuality. More recently, I wanted to broaden my perspective from historical to philosophical and started reading feminist and queer theory, basically graduating from Michel Foucault and David Halperin to Eve Kosofsky Sedgwick, José Esteban Muñoz, Jack Halberstam, and Andrea Long Chu. And then, in part thanks to Muñoz and in part thanks to queer colleagues in the Slavic field, I turned to queer Russians. In short, I'm filling gaps in my education, and being an academic allows me to share what I learn with students.
On the other hand, I feel like there's a demand among students who show interest when I mention the course's title, as well as among colleagues who regularly teach similar courses at other institutions and who actively publish on related topics. I think for many people today, both in the West and in Eastern Europe and Central Asia, sexuality and gender are ways to create identities out of lived experience through discursive and conceptual processing and free experimentation. And for scholars, especially for those who are queer and who migrated from EECA to the West like myself, and especially now that Russia's violence against the people of Ukraine has compelled everyone connected with the region to test words and ideas against their embodied experience, there are opportunities to both participate in this work and to reflect on it.
What's the course argument?
The main argument for the course is from queer theory. We start with David Halperin's definition of queerness as "oppositional and anti-identitarian," that is, always challenging what's considered normal and legitimate, both in and outside of queer communities, both in and outside of Russia. At the same time, we adhere to the foundational principles of queer theory and the conditions which once made its emancipatory practices possible. For ease of reference, I rely on the declaration of universal human rights of 1948. In other words, we agree to take certain anthropological risks after firmly establishing the parameters of our intellectual and ethical responsibility. As a result, we talk about Russian queer experiences, from Mikhail Kuzmin's 1906 novel Wings and Sophia Parnok's sapphic Russian poetry of the 1910s to today's Russophone lesbian feminist zines and the 2019 gay-themed web series Here I Come, as both culturally specific and universally human. As someone in a terrifyingly precarious professional and immigration position, I'm also trying out a pedagogy where learning is a bit uncertain, rooted in "more understated practices by which one develops a greater tolerance for indeterminacy, as well as for the joys and pains of our inescapable relation," to quote Maggie Nelson.
Which academic fields are represented among your students and why did they decide to take the course?
I have 12 students. 2 are Russian majors, the rest represent a wide range of disciplines, from microbiology and computer science – to political science, sociology, and psychology – to creative writing and communication arts. Curiously, some take it as an intro to Russian culture, others take it as an intro to queer studies.
What materials do you draw on to teach this topic? Is knowledge of Russian a prerequisite?
I divide each week into 3 modules: Activism, Art, and Academic Analysis. Since this course is designated as an elementary topics course, I rely on whatever is available in English. Still, a consistently queer perspective would require one to honor the original cultural difference and resist the cognitive bias that Jasbir K. Puar called "homonationalism." There are real and valid Russian queer experiences outside the legitimizing attention of Western academics and translators, and I try to mark out such experiences as a kind of epistemically valuable negative space for the course. Plus, I'm trying out a practice where some students actively negotiate it: I enlist the help of my 2 Russian-proficient students to translate parts of a book written by a queer Russian woman – so that we can then share the translation with the rest of the class. By the way, the book was published in 2022, which is also important for queer pedagogy: we want to see even historical knowledge as open-ended, fluid, and non-finalizable. We'll see how it goes…
If readers of this post wanted to know one or two essential take-aways related to queerness in today's Russia, what would you tell them?  
Another great question! I'll try to distil the variety to just two. One: Many queer Russians are creating their own future today, with the kind of integrity, political courage, compassion, and artistic insight that are uniquely theirs, uniquely Russian or Russophone. Two: The cultural and political forces that are currently trying to erase and kill queer people all over the world are not culturally specific in any way. Let's move away from Cold War phobic landscapes. If humans can't help but see difference when trying to make sense of each other, let them focus on good difference, so they're less afraid of it.