Krzysztof E. Borowski
Credentials: Slavic
Position title: Lecturer in Polish Studies
Pronouns: he/him/his
Email: borowski3@wisc.edu
Address:
Office Number: 1452 Van Hise Hall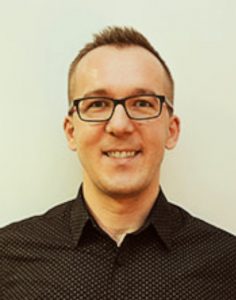 ---
Language(s): Fluent in Polish and Bosnian/Croatian/Montenegrin/Serbian; advanced in Italian; intermediate in Russian; lower intermediate in Spanish and German; reading knowledge of Silesian, Molise Slavic, and Old Church Slavic; structural knowledge in other Slavic and Romance languages
Research/Language Interests: Polish language teaching, Polish film and society, Silesia, Galicia, identity and nationalism studies, sociolinguistics, critical discourse studies, migration and transnationalism, Polish-American experience, Polish émigré culture.
About: Krzysztof is an interdisciplinary language, culture, and society scholar of contemporary Poland focused on political discourse, Silesian identity, online communities, and Polish television. His work examines the themes of ethnicity, identity, language, and nationalism and combines critical discourse, socio-political, and linguistic approaches. He is the author of several journal articles, book chapters, and encyclopedia entries. His work appeared in the Journal of Slavic Linguistics, Slavia Centralis, Poznańskie Studia Slawistyczne, and Encyclopedia of Slavic Languages and Linguistics.
Before coming to the University of Wisconsin–Madison, he was Assistant to the Editor-in-Chief for Brill's Encyclopedia of Slavic Languages and Linguistics, and has served on the Slavic Linguistics Society's Executive Board. At UW–Madison, he teaches elementary, intermediate, and advanced Polish language courses in addition to courses on Polish political comedy, the Polish American experience, and the multicultural heritage of Poland and the Central European region. He co-organizes the Madison Polish Film Festival, leads Polish Language Table meetings, and is a regular contributor to the UW Polish Studies program blog.
Education:
• University of Kansas, Ph.D. in Slavic Languages and Literatures (2020)
• University of Wrocław, M.A. in Serbian and Croatian Languages and Literatures (2011)
• University of Wrocław, B.A. in Slavic Languages and Literatures (2009)
Social Profiles and Media:
Multilingual UW–Madison
Academia 
ResearchGate
ORCID: 0000-0003-4169-4961
LinkedIn
Twitter: @KrzBorowski
Pinterest: krzborowski
Mastodon: @borowski
Medium
GitHub
Personal Website: KrzysztofBorowski.com