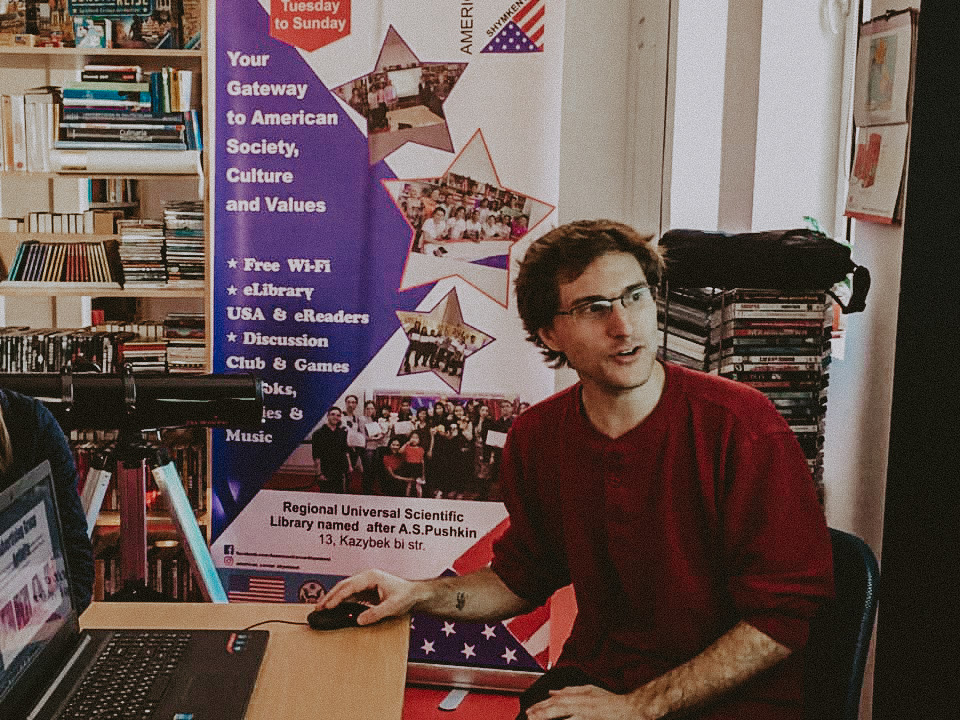 When did you graduate and with what degrees?
I attended the UW-Madison in 2013 – 2015 as a graduate student in the CREECA department, which is the Center for Russia, Eastern Europe, and Central Asia. I graduated with a Master's Degree in Russian, Eastern European, and Central Asian studies, focusing specifically on Kazakhstan and Central Asia. For my undergraduate studies, I went to a small liberal arts college in Massachusetts, called Wheaton College. There, I graduated with a double major in Russian Studies and Classics, as well as a minor in Latin.
What are you doing now?
Currently, I am living and working in Kazakhstan as an English instructor at the South Kazakhstan State Pedagogical University where I instruct both undergraduate and graduate students in English and Pedagogical Methodologies. In 2018, I was awarded a Fulbright to live and work as an English Teaching Assistant in Shymkent, Kazakhstan, the third largest metropole in the country. Then, in 2019, I was honored to be nominated, then awarded, a second Fulbright scholarship to Kazakhstan as a Fulbright Renewal. Beyond my work at the university, I have been actively involved in my community, particularly providing educational and professional opportunities and programs to rural areas. I have done such works as partnering with local and national educational organizations on several projects, like the Village Renaissance Project, to help establish professional development seminars and workshops for teachers in rural and resource-starved regions of Kazakhstan; conducting numerous community-wide clubs, such as Anime Club, Movie Club, GRE Club, and Debate Club, at the local library; assisting with the implementation of nation-wide competitions, such as Spelling Bees and Olympiads; visiting and giving talks at numerous schools and universities; providing weekly skills-training seminars for my colleagues and peers; and lastly work with local youth and organizations on projects aimed at promoting tolerance and acceptance, especially of minorities, spreading awareness, and combating corruption, injustice and racism. 
Do you have any memories of the department that have really stuck with you?
Some of my fondest memories of my department are from the summer, when it held the Central Eurasian Summer Studies Institute (CESSI) programs for learning Central Asian languages and cultures. I enrolled in the summer program twice, once in 2015 as a graduate student, and then again in 2017 simply because I had such wonderful and amazing experiences with the program. This amazing, immersive program provides Americans/foreigners with a unique opportunity to not only study Central Asian languages, but also learn about, and actively take part in the culture. Such cultural exchange activities included playing traditional Kazakh and Uighur games, watching famous Uzbek and Kazakh films, singing local songs and poems, and cooking traditional dishes. My fondest memory was when all the Kazakh teachers, students and teaching assistants gathered together at one of the instructor's houses to make some traditional Kazakh dishes. We settled on making Samsa (fried pastries stuffed with veggies and meat, similar to an empanada) and manti (Central Asia dumplings). Both were filled with beef, onions and pumpkin. Now, we were under a little bit of pressure since this was not simply a cookout amongst friends. No, this was also for all the points. Within the program, there was a friendly competition amongst each of the Central Asian language groups on who could make the tastiest meal. Each week, on Friday, one of the groups would treat the rest of the Central Asian groups to a lavish dastarkhan (a thanksgiving spread, if you will). Our group, the Kazakh group, was last, and we had big standards to meet as the previous groups had knocked their meals out of the park. However, despite this pressure, we had a blast learning how to make these delicious foods, all the while sharing stories, chatting and practicing our Kazakh language, and building lasting friendships. Also, no big deal, we won the friendly cooking competition. At this CESSI program, I made most of my closest and dearest friends, and also was inspired to pursue this region in my future career.